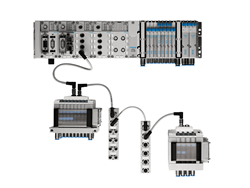 Hauppauge, NY (PRWEB) June 08, 2015
During ACE 2015, June 7-10, at Anaheim Convention Center, Anaheim, Calif., Festo showcases a modular approach to automating processing plants, including water/waste water facilities. Modular systems speed up design and manufacture of automated processes, lower overall cost and make the facility more adaptable to changing market conditions. (Festo ACE Booth #1586)
"This new approach represents a fundamental shift in the design and engineering requirements for water filtration applications," said Craig Correia, Head of Process Automation at Festo. "Flexibility is achieved through consistent modularization, i.e. dividing a complete plant into functional units.
"These functional modules are combined to create the automated filtration system. Plants built on these functional elements can be extended almost indefinitely by adding modules, thus enabling immediate adaptation to market and filtration requirements. Capacity is increased by numbering up instead of scaling up. The option to temporarily sideline production modules from the current production process means that the modular concept also has positive effects should the plant need to cut back on production."
The traditional design for a water filtration plant includes valves, pumps, tanks, filter modules, sensors, and pipes. The required components for actuating the field devices are installed in a control cabinet, and a valve terminal such as a remote I/O system with integrated pneumatic section is connected to a central controller with visualization (management system) via a fieldbus. Plants of this type can be easily modularized by breaking down the process into sub processes and defining a module for each sub-process with all the mechanical and automation components required for standalone operation. Key modules systems in a water/waste water plant include pumps, filtration, and clean in place.
The automation components are also modularized: the control cabinet components and the "central intelligence" (the application software for the process) are divided up so that the modules each have their own controllers, remote I/O components, and pneumatic actuators. After the modules are interconnected to form a process plant, each module provides its specific functionality discretely at a data interface.
Characteristics like operating mode, status, process measurements, alerts, and more can be read/written in order to capture the functionality of the plant as a whole. A process management system is required to coordinate the module functionalities in the complete system. Unlike traditional management systems, however, the management system for the modular plant has a greatly reduced range of functions since the process-specific control functions are realized in the standalone modules.
Modules enable customized plants of any configuration to be assembled by adding modules of identical construction and function. Valve terminals are ideal components for automating modular plants, since they provide the necessary functions in a compact design:

Controller for the application software for a module (IEC 61131-3/CODESYS)
Remote I/O for connecting binary signals and analog measured variables
Pneumatic section for activating actuators
And lastly a valve terminal with the appropriate protection class can be installed directly in the field (in the plant framework) without the need for a control cabinet: IP65/IP67.
"The modularization solution has been successfully implemented for water filtration plants by Festo," said Correia. "It is not just plant operators who benefit from the flexibility offered by modular automation in adapting plant sizes to different production requirements, skid manufacturers and engineering firms benefit from modularization as well."
A new Festo white paper, Plants Based on the Lego Principle – Modular Automation with Valve Terminals, is now available for download.
For more information on Festo solutions, visit Water Technology on the Festo website and call 800-993-3786. Be sure to stop by the Festo Booth #1586 at ACE 2015.
###
About Festo
Festo is a leading manufacturer of pneumatic and electromechanical systems, components, and controls for process and industrial automation. For more than 40 years, Festo Corporation has continuously elevated the state of manufacturing with innovations and optimized motion control solutions that deliver higher performing, more profitable automated manufacturing and processing equipment.
Connect with Festo: Facebook, LinkedIn, Twitter and YouTube