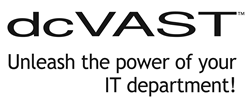 Downers Grove, IL (PRWEB) June 09, 2015
As Account Executive, Turnbull will be leading and growing client engagements in the TOLA (Texas, Oklahoma, Louisiana, and Arkansas) region. One of Turnbull's primary objectives will be to support Veritas solutions in the enterprise space of NetBackup, Storage Foundation, Data Insight and Enterprise Vault. In his 20 plus years managing a variety of IT Solutions, Turnbull has built strong client relationships, developed new strategic business, and managed enterprise-level account portfolios for datacenter and information management products.
"What attracted me to dcVAST is that they work with Veritas solutions and offer only these data backup and recovery solutions," said Turnbull. "dcVAST bridges an important gap by providing valuable education and support to customers. My experience in working with Veritas solutions has me uniquely equipped to not only engage new business partners, but solve problems. I am excited to be a part of a company that has a value-add service of great support at the core of its business model."
dcVAST is excited about expanding their expertise around the Veritas product line into the mid-south region of the United States, and Turnbull is key in expanding the company footprint in the TOLA region.
"One of my objectives as Account Executive is to establish strong relationships with partners and help solve complex problems for end users," said Turnbull.
Larry Shalzi, Vice President of Sales, commented, "This is a very exciting time for dcVAST. Jake's experience with Information Management business and vast network allows him to develop strong strategic partnerships in the TOLA region quickly. Jake's extensive IT background compliments our distinct approach of solution-based selling, providing an important opportunity to meet and exceed our clients' diverse needs. We are delighted to welcome this kind of talent to our sales organization."
About dcVAST
dcVAST's IT services and infrastructure management solutions help customers reduce costs and improve operational efficiencies so they can focus on their business priorities. dcVAST works with customers to maximize the value of their IT departments, infrastructure and budget by providing comprehensive solutions and early resolution to problems.
Founded in 1989, dcVAST has been a Symantec partner for 20 years and is a member of the elite Veritas Technical Services Partner Program and ranks in the highest category for performance, call handling and customer satisfaction.