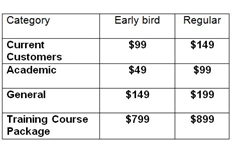 (PRWEB) June 10, 2015
Infolytica Corporation, the electromagnetic simulation specialists since 1978, announces today the details regarding their annual user conference Infolytica Engage. The event will take place from October 26-28, 2015, at the Hilton Rosemont Chicago O'Hare. It is open to the public and will feature presentations from customers and technology partners.
Engage 2015 gathers engineers and designers to share best practices and discover the latest in the company's 2D/3D electromagnetic field simulation, electric field simulation and motor design software. This interactive event will offer hands-on learning and valuable peer networking for attendees.
The program will feature presentations from users focusing on their knowledge and experience using MagNet, ElecNet, MotorSolve or MagNet for SOLIDWORKS™ for design and analysis.
The user presentation submission deadline is August 7, 2015. If you are interested in proposing a presentation, the guidelines and submission form can be found online at http://infolyticaengage.com/call-for-presentation/.
A special training course reserved for current clients only on Advanced MagNet 3D topics will also be held October 26, 2015. Spaces are limited. The focus will be on a structured approach on moving from 2D to 3D simulations, covering areas where 3D simulation pose a challenge. Full details available at http://infolyticaengage.com/training-course-advanced-magnet-3d/.
For more information and to register, please visit the Infolytica Engage website at http://infolyticaengage.com/
Infolytica Corporation has offered state-of-the-art design software for electromagnetic and electric field simulations since 1978. Engineers from a wide range of industries trust our software to understand and predict the performance of their device in applications such as motors, transformers, sensors and non-destructive testing (NDT), actuators, induction heating, MRI, shielding and more.
Subscribe to our RSS feed to ensure you receive all the latest news from Infolytica Corporation.