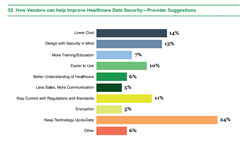 ...simply put, there is no information out there that is more valuable than a person's healthcare data.
American Fork, Utah (PRWEB) June 10, 2015
A new report explains the issues organizations fear are hindering patient data from remaining secure.
The report from Smart Data pioneer peer60 indicates that 96% of hospitals say health information security is a huge priority for them. In the context of the security challenges that face the healthcare industry, it is not surprising. Providers also revealed that lack of budget and non-compliant employees were the greatest obstacles to properly securing and protecting health information.
"Data security is one of the biggest priorities across nearly every industry right now," said peer60 CEO Jeremy Bikman. "However, the healthcare industry should be more concerned than others because, simply put, there is no information out there that is more valuable than a person's healthcare data."
The report was compiled based on 187 responses from CIO's, IT Directors, information security leaders and other decision-makers during a recent three week period. Participants were asked how they would describe their organization's view towards health information security and the factors affecting its priority. These factors ranged from a lack in budget, inability to keep all HIT systems updated, underlying IT security weakness and more. In addition, participants named specific clients they are currently using for their data security and those they are now considering.
"This study helps us to know where the healthcare industry is as far as data security is concerned and where it potentially could be headed," said peer60 Vice President Tyler Page. "It also provides security firms an understanding of where they are and what clients would like to see from them."
Data security vendors that are specifically listed in the report include, but are not limited to:

Cisco
VMware
Symantec
McAfee
Barracuda
FireEye
IBM
Fortinet
Palo Alto
Sophos
Trendmicro
Dell
Cynergistek
Websense
Sonic Wall
RSA
Vipre
Microsoft
The full report is available at no cost to the public and can be downloaded here: http://bit.ly/1GoUSeW
About These Reports
Peer60 publishes reports on the healthcare industry every four to five weeks as a public service. These reports are available at no cost. If you would like to suggest a topic for a future peer60 report, email peer60 Vice President Tyler G. Page at tpage(at)peer60(dot)com.
About peer60
As a pioneer in Smart Data, peer60 is committed to helping businesses acquire crucial market and customer data in a timely, affordable manner, peer60's platform enables companies to receive four times the response rate in a quarter of the time, reaching relevant audiences all around the world. Join the companies around the globe who are already getting Smart Data from peer60. For more information visit http://www.peer60.com or call (801) 692-1532.
# # #