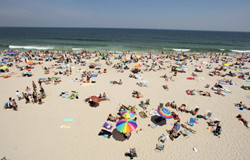 Toms River, New Jersey (PRWEB) June 09, 2015
From white sandy beaches, to fun games and amusements on the boardwalk, the Jersey Shore is proven to be one of the most popular family vacation destinations. Before planning the next weekend outing, check out the list of seven of the Jersey Shore's best beaches, compiled by the Asbury Park Press.
The state's most beloved beaches include: Island Beach State Park, Sea Bright Municipal Beach, Asbury Park Beach, Point Pleasant Beach, Avon-by-the-Sea, Cape May, and Sandy Hook.
For more on these top picks, visit http://www.app.com/story/entertainment/events/outdoors/2015/05/08/jersey-shores-best-beaches/27004947/.
About Surf and Stream Campground
Surf & Stream Campground is a family-friendly RV park located near all of the most popular beaches at the Jersey Shore. The campground includes a full-size swimming pool, picnic area, activities for all ages, weekend events and more. For more information about Surf & Stream Campground, visit their website at http://www.surfnstream.com or call 732.349.8919.