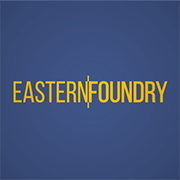 We believe that the Foundry Cup is our opportunity to bring together bright minds and technologies to make a contribution in the ongoing battle against PTSD.
Crystal City, Va. (PRWEB) June 09, 2015
Government contracting marketplace Eastern Foundry today announced fourteen confirmed finalists for its first bi-annual Foundry Cup. Produced by Eastern Foundry, the Foundry Cup is a three-day innovation competition (June 18-20) convening individuals and companies to collaborate on projects that address some of the toughest issues related to our nation's veteran community, national security and health. This spring's Foundry Cup is honing in on individuals and groups that provide technologies and services to detect, alleviate and/or provide support to veterans suffering from post-traumatic stress disorder (PTSD). The fourteen finalists will compete for both cash and professional development prizes. The first place winner will receive a $10,000 cash prize, the runner-up will receive $5,000 and the "people's choice" victor will receive $1,000. All finalists will receive training, professional services, access to buyers and more. The fourteen finalists are:

Affinity Networks, Inc.: IntelaCare enables remote practitioner-patient video conferencing;
Blacksheep MILSIM: Uses controlled military simulation environments to provide safe bonding outlets;
Defense Group, Inc.: A high tech company that advances public safety and national security through innovative research, new technologies and systems assessments;
Michael Cain: Coach and author of the book, The Pain of PTSD and the Healing Power of Journaling;
REBOOT Combat Recovery: Combat trauma healing course focused on treating the wounds of war;
RESTORE LIVES: Offers accelerated resolution therapies to treat PTSD in one to five sessions;
Sandboxx: Lifestyle application that enables military connections to prevent and reduce occurrence of PTSD;
SelfEcho: Uses an innovative platform, Mobile Therapy, to manage patient treatment and enhance clinician-patient engagement;
Sound-Off: Provides an IT infrastructure that connects veterans with mental health specialists and a peer support network;
Trauma and Resiliency Resources, Inc.: Conducts Warrior Camp® programs for active military and all veterans to address PTSD, MST and Moral Injury;
TreatNow Coalition: TreatNow clinics are using hyperbaric oxygen therapy to treat brain injuries;
Virtual Reality Medical Center: Provides virtual reality exposures to treat panic disorders caused by PTSD;
Warriors at Ease: Organizes yoga programs tailored specifically for veterans suffering from PTSD; and
Qntfy: Provides data-driven analysis to better diagnose, treat and monitor mental healthcare patients.
On June 20, Demo Day, finalists will showcase their solutions in action at Eastern Foundry, located at 2011 Crystal Drive Arlington, VA, 22202. Demo Day will run from 10 a.m. until 3 p.m. and will be free and open to the public.
"At Eastern Foundry, we encounter innovative people and ideas everyday, so we're looking to leverage and expand our reach to tackle the issues that are critical to our country's veterans," said Andrew Chang, managing partner at Eastern Foundry. "Already, the Foundry Cup has drawn individuals, academics, companies and technologists from across the county and is generating real excitement – I, for one, could not be more pleased to see it."
Conceived by Eastern Foundry's leadership team – Geoff Orazem, Andrew Chang, Tony Porter and Kyle Stelma – Foundry Cup was created to help identify solutions that will serve our nation in the areas of veteran issues, national security and defense. "For 2015, we chose to focus on PTSD because, as veterans ourselves, our team cares deeply about this issue – we see its impact daily on the lives of our friends and our family members," said Geoff Orazem, founder and CEO of Eastern Foundry. "We believe that the Foundry Cup is our opportunity to bring together bright minds and technologies to make a contribution in the ongoing battle against PTSD."
To RSVP for Demo Day, visit https://nvite.com/FoundryCup/c4d3. To learn more, go to foundrycup.com or email foundrycup(at)eastern-foundry(dot)com.
About Eastern Foundry
Eastern Foundry is a first-of-its-kind marketplace where technologists, government contractors and agencies convene to exchange information and opportunities, find teaming partners and conduct business. Providing all of the resources of a modern technology incubator, Eastern Foundry offers physical workspace, services, trainings and information that are tailored to help large and small businesses achieve government contracting success. To learn more about Eastern Foundry, visit Eastern-Foundry.com, follow us @EasternFoundry or stop by our location in Crystal City.