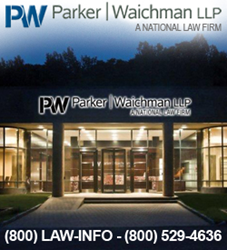 Our clients are the tragic victims of the wrongful conduct alleged in the detailed Petition. They have been seriously harmed. We look forward to presenting their cases to a jury
Port Washington, New York (PRWEB) June 09, 2015
Parker Waichman LLP, a national law firm dedicated to protecting the rights of victims injured by defective drugs and medical devices, along with several other esteemed law firms has filed a lawsuit over Medtronic's InFuse Bone Graft and LT Cage product. The lawsuit was filed on behalf of numerous plaintiffs who were surgically implanted with the InFuse Bone Graft and LT Cage medical product by Jerrold Parker of Parker Waichman LLP; Richard J. Arsenault of Neblett Beard & Arsenault; Nicholas Drakulich of The Drakulich Firm; Eric Holland of The Holland Law Firm; and Mark Lanier of The Lanier Law Firm. The case is: Does 1-100, Plaintiffs v. Medtronic, Inc.; Medtronic Sofamor Danek USA, Inc.; and Medtronic Sofamor Danek, Inc. filed May 27, 2015, in the Circuit Court in the City of St. Louis, State of Missouri, No. 1522-CC09762
Court documents allege product liability and fraud against device maker, Medtronic Inc., and its wholly owned subsidiaries, Medtronic Sofamor Danek, USA, Inc., and Medtronic Sofamor Danek, Inc. over its InFuse Bone Graft LT-Cage Lumbar Tapered Fusion Device System. InFuse received very narrow and limited U.S. Food and Drug Administration (FDA) approval for use in a single level fusion. In 2002, InFuse was approved for singular placement between two vertebrae in the lumbar region; use was assiduously expanded in 2004 to include the L4-S1 region and was later approved for use in a specific surgical approach: the Anterior Lumber Interbody Fusion (ALIF). InFuse is a system that combines two components and consists of three parts.
According to court documents, the limited approval would also limit Infuse marketing and sales; however, rather than seeking expanded FDA approval through a supplemental Pre-Market Approval (PMA), a requirement under the Federal Food, Drug, and Cosmetic Act (FDCA), court documents allege that Medtronic employed an illegal, false, and deceptive marketing scheme to promote the sale of Infuse for unapproved (off-label) uses.
Lawsuit documentation also alleges that Medtronic knew that off-label Infuse use was unreasonably dangerous and exposed patients to serious risks of increased injury and harm; however, its allegedly false and deceptive marketing scheme proved so effective that 85-90 percent of InFuse sales were allegedly derived from off-label uses. According to court document allegations, an off-label use rate this high is not realized without significant off-label promotion.
Also according to lawsuit allegations, Medtronic failed to provide plaintiffs and their physicians with truthful and accurate information, misleading physicians, thus hampering them from becoming knowledgeable health care liaisons, and misleading patients of their potential off-label Infuse-related injuries. Court documents claim that Medtronic's purportedly fraudulent scheme was undertaken with an alleged conscious disregard for the health and safety of patients implanted with InFuse and that these activities violated federal and parallel state laws and the PMA.
Most plaintiffs underwent spinal fusion surgery with fusion cages. All plaintiffs underwent a spinal fusion procedure between 2002 and 2013 and procedures were generally performed due to back pain, according to the lawsuit. As early as 2006, doctors reported adverse events associated with the off-label use of InFuse in the cervical spine, including swelling, dysphagia (difficulty swallowing), and dysphonia (voice disorders), according to court documents.
"Our clients are the tragic victims of the wrongful conduct alleged in the detailed Petition. They have been seriously harmed. We look forward to presenting their cases to a jury," said Nicholas Drakulich of The Drakulich Firm.
Parker Waichman is currently offering free legal consultations to victims of Medtronic InFuse Bone Graft Injuries. If you, or someone you know, suffered a serious complication or injury after receiving Medtronic InFuse, please contact the office by visiting the firm's website at yourlawyer.com. Free case evaluations are also available by calling 1-800-LAW-INFO (1-800-529-4636).