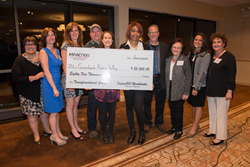 We are thrilled to provide such worthy and wonderful Westchester organizations with these transformational grants.
Westchester County, NY (PRWEB) June 11, 2015
On Tuesday June 2, 2015 at the Brynwood Country Club in Armonk, 145 of the 188 members of Impact100 Westchester voted to award an $85,000 grant to Family Ties – "Bravehearts Village" and an $85,000 grant to Groundwork Hudson Valley – "Yonkers Highline". Two Operational Grants were awarded to Student Advocacy and Clay Art Center.
The "Bravehearts Village" will offer Westchester's transitional-age youth who will soon age out of foster care a hands-on experience to obtain the practical skills they have not been taught but that everyone needs to be successful in life such as how to open a bank account, get a social security card, apply for a job, get health insurance etc...
The "Yonkers Highline" on the greenway in Yonkers, which has been abandoned for decades, will include a playground, fitness-oriented equipment, an urban farm, and a performing place. At a minimum, the new play and community space will impact 5,000 children per year or 25,000 kids over 5 years. Groundwork also intends to recruit local residents to participate in the implementation/construction of the project. The neighborhood (according to Groundwork Hudson Valley) has a median income of $36,287 and 33% poverty rate. It is 90% minority and 39% of the residents are 19 or younger.
That evening Impact100 Westchester also announced that Amelie Kraus will become Co-President with current Co-President Anita Borkenstein and that Cindy Musoff and Michelle Coleman will join the Executive Board. Sharon Douglas, founder of Impact100 Westchester stepped down after completing her two year role as Co-President and plans to continue to be very involved with Impact100 Westchester. Nancy Stuzin and Eileen Weinstein also completed their two year board membership. All, of course, plan to continue to be involved members.
Impact100 Westchester's mission is to engage women in philanthropy and to collectively fund grants to charitable initiatives in the Westchester region. The goal is to identify unmet needs in the region and provide transformational grants to Westchester not for profit organizations in four focus areas: Arts & Culture, Education, Environment and Health & Wellness. In addition to funding projects, our rigorous review and evaluation of grant proposals raises awareness of many worthwhile charitable organizations while inspiring our members to become more personally involved with these charities.
The next grant cycle for Impact100 Westchester will begin in September 2015. Visit http://impact100westchester.org/ for more information.
###
Contact person: Amelie Kraus (646) 391-5772 or Anita Borkenstein (914) 420-8653