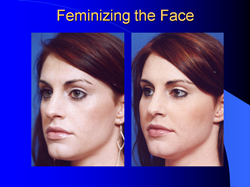 The feminization of the face in women as well as transgenders is nothing new.
Beverly Hills, CA (PRWEB) June 15, 2015
With the surge of news stories covering Caitlyn Jenner's transformation, such as the June 10th story from ET Online*, Dr. Ellenbogen believes it's valuable to reiterate that procedures to feminize the face have been around for quite some time. He cites major facial feminization movements from history as support.
According to Dr. Ellengbogen, "Jacques Joseph, the originator of modern rhinoplasty, shortened and reduced large noses in Germany around the turn of the century. In the 1920s, Madame Noel in Paris trimmed heavy eyelids in the city's salons to allow women to wear eye shadow and false eyelashes. C.C Miller in the 1920s in Chicago tightened faces and loose necks."
The ET Online story overviews the Caitlyn Jenner transformation from a surgical perspective, and emphasizes that her 10-hour facial reconstruction procedure was not without its risks, but has certainly been transformative. Though it is possible to agree with the assertion that the results "have been widely praised," Ellenbogen encourages all to keep in mind that this type of procedure has been in existence for a while.
In addition to reported brow lifting, Dr. Ellengbogen asserts that facial fat grafting is also to thank for Caitlyn's transformation. Dr. Ellenbogen is a major contributor and originator of facial fat grafting procedures which fill in the lips, cheeks and jaw line with someone's own natural tissue, which is what it did for Caitlyn Jenner. "The harsh creases and sunken cheeks are gone. She has a smooth woman's reshaped face," he adds. "Who knew the fat we hated as muffin tops and thunder thighs could be recycled to beautify our faces?"
Though Ellenbogen makes it clear that facial feminization is by no means new, he does attest to the importance of Caitlyn Jenner's transformation: "We in plastic surgery will benefit from her openness. She looks great. Dr. Ellenbogen is considered the "Father of Fat Grafting" where he originated a technique which is used on thousands of patients.
*http://www.etonline.com/news/165940_caitlyn_jenner_plastic_surgeon_explain_incredible_10_hour_facial_feminization_procedure/
About Beverly Hills Body
For more than 35 years, plastic surgeon Dr. Richard Ellenbogen has been providing comprehensive plastic surgery services to patients in the Beverly Hills and Los Angeles area. During that time, he has developed a reputation for delivering beautiful, natural looking results that will help you look and feel your very best. Throughout his career, Dr. Ellenbogen has refined his surgical technique through his commitment to ongoing education. However, he understands that surgical technique is not sufficient to deliver the exceptional outcome you desire. He also approaches every procedure with a keen artistic eye in order to ensure your results create a harmony and balance between all of your features.
To learn more about the many plastic surgery services offered at Beverly Hills Body, please call 310-276-3183 today to schedule your consultation with Dr. Richard Ellenbogen.