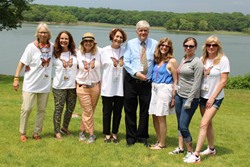 Rye, New York (PRWEB) June 09, 2015
Hospice & Palliative Care of Westchester (HPCW) hosted its fifth annual Celebration of Life Memorial Butterfly Release at the Wainwright House in Rye, NY on May 31, 2015. Hundreds of families, friends and community members joined HPCW for two remembrance ceremonies, each concluding with the release of Monarch butterflies that honored the memories of loved ones.
HPCW Executive Director Mary K. Spengler, MS and Wainwright House Executive Director Peggy Hill welcomed guests, and HPCW staff and volunteers offered readings relating to loss and bereavement. Music practitioners Janette and David Devine provided musical interludes. Before the program began, children and their families were invited to participate in crafts relating to the Monarch butterfly, as well as enjoy the beautiful weather by walking the peaceful labyrinth on the grounds of Wainwright House.
Following each remembrance program, HPCW bereavement coordinators read the names of those being remembered. Guests then gathered for the release of butterflies in memory of their loved ones.
"This annual event was designed to help members of the community remember the lives of their loved ones," Spengler said. "We are proud that we have been able to offer this celebration to families around Westchester County for five years and are already looking forward to next year's event."
About Hospice & Palliative Care of Westchester:
Hospice & Palliative Care of Westchester is a private, not-for-profit healthcare agency that provides skilled, compassionate and comprehensive end-of-life care to patients with any life-limiting illness and gives support to their families and loved ones. Hospice & Palliative Care of Westchester is located at 311 North Street, Suite 204, White Plains, NY. For additional information, visit http://www.hospiceofwestchester.com or call 914.682.1484.