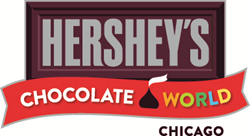 Chicago, IL (PRWEB) June 10, 2015
From June 12 to 15, Hershey's Chocolate World Chicago guests can pose for a special anniversary picture with the Hershey's Kisses Character, and kids 12 and under can have an adventure in a Hershey's scavenger hunt. In addition, the store will feature exclusive anniversary t-shirts and candy bars in Hershey's Milk Chocolate, Hershey's Special Dark Mildly Sweet Chocolate, and Hershey's Cookies 'n' Creme varieties. On Monday, June 15 guests can enjoy a free cupcake to ring in the official anniversary, while supplies last.
"We're very excited to be celebrating Hershey's Chocolate World Chicago's 10th anniversary with a number of exciting experiences throughout the weekend. This is a very special milestone for us and we're thrilled to be able to share it with our guests," says Susan Graening, General Manager of Hershey's Chocolate World Chicago.
Hershey's Chocolate World Chicago is a unique 3,600-square-foot interactive retail experience located on Michigan Avenue along the famous Magnificent Mile shopping strip. The store features exclusive Hershey's products and merchandise, Hershey's Magnificent Chocolate Works Machine, and an in-store Bakery. For more information, visit HersheysChocolateWorld.com and join the conversation on Facebook, Instagram and Twitter.
About The Hershey Experience
The Hershey Experience is the direct-to-consumer and experiential marketing division of The Hershey Company including Hershey's Chocolate World Attractions in Hershey, Pennsylvania; Times Square; Chicago; Niagara Falls, Canada; Shanghai, China; Dubai, Singapore, and Las Vegas. The Hershey Experience also includes Hershey's Licensed Food and Merchandise and Hershey's e-commerce initiatives. Hershey's Chocolate World Attraction in Hershey, Pennsylvania is the flagship experience for The Hershey Company and is the most visited corporate visitor experience in the world, featuring Hershey's Chocolate Tour, Create Your Own Candy Bar, Chocolate Tasting Experience, 4D Chocolate Mystery and the World's Largest Hershey's Candy Store. HersheysStore.com is the online destination for unique chocolate products, gifts, apparel and collectibles. In addition, The Hershey Experience operates retail and e-commerce businesses for Hershey's premium chocolates, including Scharffen Berger and Dagoba brands.
About The Hershey Company
The Hershey Company, headquartered in Hershey, Pa., is a global confectionery leader known for bringing goodness to the world through its chocolate, sweets, mints and other great-tasting snacks. Hershey has more than 22,000 employees around the world who work every day to deliver delicious, quality products. The company, which has more than 80 brands around the world that drive over $7.4 billion in annual revenues, includes such iconic brand names as Hershey's, Reese's, Hershey's Kisses, Jolly Rancher, Ice Breakers and Brookside. Hershey is focused on growing its presence in key international markets while continuing to build its competitive advantage in North America. Additionally, Hershey is poised to expand its portfolio into categories beyond confectionery, finding new ways to bring goodness to people everywhere.
At Hershey, goodness has always been about more than delicious products. For 120 years, Hershey has been committed to good business by operating fairly, ethically and sustainably to make a positive impact on society. This means contributing to a better life for its employees, consumers, communities, and ultimately, creating a bright future for children in need. This commitment is exemplified by Milton Hershey School, established in 1909 by the company's founder and administered by Hershey Trust Company. The children who attend the school receive education, housing, and medical care – thriving as direct beneficiaries of The Hershey Company's success.