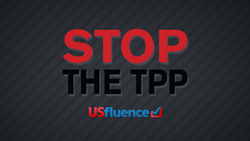 YouTubers have an incredibly unique relationship with their fans and frequent audience bases
LOS ANGELES, California (PRWEB) June 09, 2015
Popular YouTube stars with combined monthly views of nearly 15 million have joined forces by appearing in ads that call on their fans to petition select Democrats to vote against the fast-track authority President Obama is seeking to negotiate the contentious Trans-Pacific Partnership (TPP) trade accord when the bill comes up for a vote in the House as early as this week.
The six YouTube stars appearing in the ads coordinated by digital media company USfluence include Kyle Kulinksi who discusses progressive politics on Secular Talk, with 5.8 million monthly views nationwide; Mark Sovel, a host on TheLipTV, which draws 3.8 monthly views with live and unscripted experts discussing politics, news and other topics of their choice; David Pakman, who pulls in three million monthly views with his news and political talk program "The David Pakman Show" known for controversial interviews with political and religious extremists, liberal and conservative politicians, and other guests; vlogger Jaclyn Glen, who attracts 1.2 million monthly views with her sarcastic videos about social issues, politics and atheism; Sam Seder, host of the daily progressive political talk show "The Majority Report," with over one million monthly views, and Richard Fowler, a political vlogger in the Young Turks Network, with over 350,000 monthly views, who has appeared on Fox News, MSNBC, C-Span and other news outlets.
The online ads, targeting YouTube audiences in 14 congressional districts where members of the House have yet to declare which way they are voting on the bill, call for viewers to petition their representatives to vote against the TPP. "YouTubers have an incredibly unique relationship with their fans and frequent audience bases," said Ryan Yudell, Managing Director of USfluence. "They have the ability to drive mass reaction and actions which are typically considered to be viral in nature."
In his ad supported by the Stop the TPP campaign, Kulinski warned his fans that the TPP is "really just an outsourcing deal that will ship American jobs overseas. The TPP is a backroom deal for corporate America and it's a disaster for the middle class." He goes on to ask his audience to fight the TPP "by signing this petition to say no to the TPP and no to fast track authority for the TPP. You can make a difference. Let's do this."
Targeted democrats include Seth Moulton (MA), John Carney (DE), Steny Hoyer (MD), Terri Sewell (AL), David Price (NC), Adam Smith (WA), Cedric Richmond (LA), Danny Heck (WA), Samm Farr, Scott Peters, Susan Davis and Nancy Pelosi of California as well as Texas Democrats Joaquin Castro, Ruben Hinojosa and Beto O'Rourke.
Two weeks ago, the US Senate voted 62-to-37 in favor of the bill that hands Obama the trade promotion authority he seeks to complete the TPP, and allows Congress to vote for or against it but not amend or filibuster it. The vote in the House is expected to take place as soon as enough votes can be won from wavering Democrats, under pressure from unions and other groups opposed to many of the bills perceived risks to jobs in America.
USfluence expects its network of thousands of YouTube stars to participate heavily in the 2015 local political races, which include many ballot initiatives, leading into the 2016 election, where $6 billion is expected to be raised and spent by candidates and causes. The network has the ability to target ads locally, regionally, nationally and even globally, and reach very precise audiences.
USfluence
USfluence is a leading digital media company, based in Sherman Oaks, Calif., specializing in connecting thousands of YouTube influencers and their billions of highly sought after viewers around the world with relevant causes, campaigns and candidates.
Downloadable videos linked below by Congressperson
Nancy Pelosi - California District 12
Cedric Richmond - Louisiana District 2
David Price - North Carolina District 4
Terri Sewell - Alabama District 7
Ruben Hinojosa - Texas District 15
Adam Smith - Washington District 9
Seth Moulton - Massachusetts District 6
Steny Hoyer - Maryland District 5