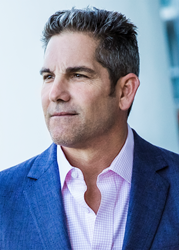 "We're making so many connections on Periscope that we want to take it to real life."
MIAMI BEACH, Florida (PRWEB) June 09, 2015
June 8, 2015 12:05 PM Eastern Standard Time—Organizers of the 1st Annual Periscope Summit have announced their initial list of the events major speakers. This list is a who's who of the world-class thought leaders in the social media and live broadcasting space.
Grant Cardone, recognized internationally for using social media to make himself and his company known, was one of the first to maximize live broadcasting apps such as Periscope and Meerkat. He made such an impact that Microsoft reached out to interview him about his Periscope experience. [1 ]
Cardone is considered one of the superstars of Periscope broadcasters, delivering serious and serial content on business, start-ups, marketing, money, finance, sales, employment, investing and more. He has been known to broadcast content live daily from his residence in Miami Beach and from his studios at GrantCardoneTV.com.
Ryan A Bell, the founder of Periscope Summit, along with Jamie Grumet and Bradley Laborman will be hosting this conference and have released an initial list of headliners including Grant Cardone. [2 ] Other power players on the list include Andy Dick, Chris Colfer, Brian Fanzo, Jenny Hutt and Dan Moore.
"We're making so many connections on Periscope that we want to take it to real life," said Cathy Hackl, a spokeswoman for the Periscope Summit. This Summit is scheduled to be held in New York from September 22 to 25 and then in San Francisco from Jan. 14 to 16. [3 ]
A website for the summit is under construction and is expected later this week.
About Grant Cardone:
Grant Cardone is a New York Times bestselling author, an international speaker, business innovator, and has written four books since the 2008 economic collapse.
Cardone owns multiple companies including Cardone Training Technologies, Inc., a software and technology business, a consulting company to Fortune 500 companies and Cardone Acquisitions, a national real estate company.
In September 2014, Grant Cardone launched Whatever It Takes Network a Grant Cardone TV Production. This new digital hub features 24/7 on-demand programming designed to offer success-minded individuals the insights they need to thrive in business and life.
Cardone On-Demand and Cardone University were released in 2010 and have become industry leaders for web-based sales training. These platforms offer comprehensive sales training and sales management courses online with over 1,100 segments of content broken down into actionable modules and curriculums.
Cardone's online sales training universities provide sales meetings, tests, reports and sales solutions for every selling situation imaginable. At the start of 2013 sales organizations, entrepreneurs, trailblazers and dominators have viewed and tested on over 10 million videos through these universities.
You can follow Cardone on Twitter @grantcardone or visit http://www.grantcardone.com/
For further press information on Grant Cardone please contact Vaughn Reynolds:
Vaughn Reynolds – Public Relations
[email protected]
Cardone Training Technologies, Inc
Phone: 310.777.0255
Fax: 310.777.0256
Web: http://www.grantcardone.com