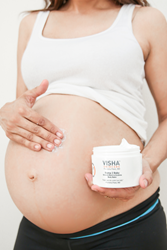 Memphis, TN (PRWEB) June 09, 2015
VISHA Skin Care, created by board certified dermatologist Dr. Purvisha Patel introduces Bump 2 Baby, the first product of its kind to help prevent stretch marks and moisturize the skin during pregnancy. "Bump 2 Baby can also be used to help prevent and treat eczema in young children," says Dr. Patel. 
Dr. Patel, a skin care expert and mother says she experienced stretch marks herself during pregnancy and developed Bump 2 Baby with a team of chemists. "Bump 2 Baby addresses the deep, superficial layers of the skin by filling in the cracks and protecting the skin while it stretches and adjusts to the growing baby inside. Bump 2 Baby contains the proper amount of essential oils and emollients that decrease inflammation, and when massaged into the skin every night helps prevent the formation of the cracks both on the surface and under the epidermal layer. This also stimulates collagen production to fill the deeper cracks in the collagen of the skin," says Dr. Patel. 
"As an expectant mother's belly grows, her skin stretches," says Dr. Patel. "Stretch marks (or striae) occur when a woman's skin stretches faster than her body can produce collagen. This causes the formation of cracks in the collagen layer under the skin. At first, these marks may appear red and can be itchy. This is because when the outer layer of the skin (or the epidermis) stretches, minute cracks in the surface expose nerves to the air, which can result in itching and redness."
How Bump 2 Baby works for eczema
"Bump 2 Baby combines scientifically proven ingredients that can also be used on the small cracks that develop on children's skin as a result of eczema," says Dr. Patel. "Eczema, or 'atopic dermatitis' is caused by a genetic inability of the skin to retain water or its moisture barrier. This makes the skin more susceptible to the environment. Eczema causes moisture to evaporate off the skin easily, which also results in small micro cracks in the skin's surface causing redness, dryness and itching. When used directly on the skin after bathing every night Bump 2 Baby perfectly traps in moisture and gives more strength to the skin." 
"Bump 2 Baby is specifically formulated to be safe for women during pregnancy and for their newborns or for children who suffer from eczema," says Dr. Patel. "This product has been found to work well in addressing itchy skin and skin breakdown in adults as well."
Dr. Patel says pregnant women should apply a thin layer of Bump 2 Baby on the entire abdomen every evening and massage in a circular motion for 10 to 20 minutes. "For eczema, apply a thin layer to the affected area after bathing every night," she says.
For more information and to order Bump 2 Baby visit http://www.vishaskincare.com
About VISHA Skin Care:
Board certified dermatoligist Dr. Purvisha Patel combined her dermatological expertise with her love of science and together with a team of scientists formulated two patent-pending complexes: Illuminotex™ and Illuminotex-™ . It was from these two break-through complexes that the Visha Skin Care line was conceived. She decided to bring her skin care out of the doctor's office and into the hands of the public, so that more people can benefit from these breakthrough products.
#####