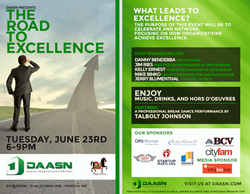 The road to excellence is paved with planning, resources, hard work, execution, and a bit of luck - Danny Bendebba
(PRWEB) June 10, 2015
DAASN will be hosting an innovative event on June 23rd at Café Troia in Towson, "The Road to Excellence."
31 Allegheny Ave.,
Towson, MD 21204
The event is named, "The Road to Excellence," focusing on how organizations achieve excellence. The purpose of the event is identify core principles of excellence, celebrate and network amongst successful organizations and influencers.
The event will provide drinks and hors d'oeuvres as well as a professional performance from a street dance professional. Each sponsor will have time to present on how they achieved their own success. Speakers will include representatives from the event's sponsor organizations.

6 - 6:30pm: Networking with provided hors d'oeuvres, music, and drinks
6:30: Welcoming speech by Danny Bendebba
6:45: Professional street-dancing performance by Talbolt Johnson
7:00 – 7:45pm: Speakers from sponsor companies
7:45 – 9pm: Networking and celebration
Highlight and thanks to everyone who made the event possible
Please RSVP on the Eventbrite page here: https://www.eventbrite.com/e/the-road-to-excellence-tickets-15803879830
The value of each ticket for this event is $50. After the event, guests will be provided with a master list of attendees, with names and emails for the purpose of networking. This will be a high profile event for directors and C-level positions. A portion of proceeds will go to The Urban Alliance, LET'S GO Boys and Girls, and the Honduras Mission Trip.
DAASN is a premier internet marketing, technology firm based in Towson, Maryland. DAASN relies on the belief that success in business is fueled by the relationships one builds. DAASN wishes to inspire clients to accomplish visions of fulfilling the needs of their target audience on a variety of platforms. DAASN seeks to transcend the barriers of a typical client to vendor relationship. The goal is to create working teams with clients to design a vision together.