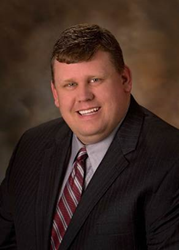 Inlanta continues to find success by allowing small to mid-sized financials to leverage our mortgage platform.
(PRWEB) June 09, 2015
Inlanta Mortgage, Inc. is pleased to announce that Gary Grocholski has been promoted to the position of Third-Party Origination (TPO) Manager. Grocholski will manage Inlanta's expanding third-party origination business and oversee the execution of new partnership agreements.
Grocholski's appointment to the position of TPO Manager is part of an overall organizational change resulting from increasing third-party origination volume. Third-party origination agreements allow financial institutions to expand their mortgage product offerings, increase fee income, decrease expense and mitigate compliance risk.
Inlanta Mortgage President Nicholas DelTorto said, "Inlanta continues to find success by allowing small to mid-sized financials to leverage our mortgage platform. Banks and credit unions can expand their mortgage product offerings without the additional overhead and compliance risk."
Grocholski is a 17 year veteran of the mortgage industry, previously serving as Inlanta's Branch Liason and Account Executive. As Account Executive, Grocholski helped loan officers and branch managers improve loan file quality and usher compliant files through the Inlanta Mortgage pipeline. Grocholski was also instrumental in onboarding new loan officers and branches, educating them on Inlanta systems and processes.
Gary Grocholski can be contacted at 262-754-6494 or via email at garygrocholski(at)inlanta(dot)com.
About Inlanta Mortgage
Headquartered in Brookfield, Wis., Inlanta Mortgage was established in 1993. The company has grown to 34 branches in 16 states and over 220 employees. Inlanta Mortgage offers Fannie Mae/Freddie Mac agency products, as well as jumbo and portfolio programs. The company is an agency-approved lender for Freddie Mac, Fannie Mae, FHA/VA, FHA 203K and USDA. Inlanta Mortgage also offers numerous state bond agency programs.
Inlanta Mortgage was named a Top Mortgage Lender in 2012 and 2013 by Scotsman Guide and has been listed in Mortgage Executive Magazine's "Top 100 Mortgage Companies in America" every year since 2011. In addition, Inlanta was named a "Fastest Growing Firm" by Milwaukee Business Journal in 2013; a "Platinum Million Dollar Lender" by USDA Rural Development in 2014; and a Top Workplace by the Milwaukee Business Journal in 2014.
Inlanta's mission is to be the home financing partner that you trust to serve your family, friends and community. Through our family of dedicated mortgage professionals, our commitment is to deliver an exceptional experience. Our unwavering dedication to integrity, honesty and ethics is the foundation of all of our relationships.
Locate an Inlanta Mortgage loan officer at http://www.inlanta.com/locations. Learn more about Inlanta Mortgage branch partnership opportunities at http://www.inlantapartners.com, call 262-439-4260 or email partner(at)inlanta(dot)com.
Inlanta Mortgage, Inc. NMLS# 1016, Gary Grocholski NMLS# 1076647