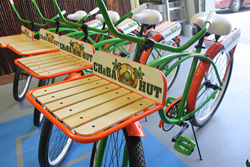 We soon realized that our bikes were an excellent platform for corporate branding. Since we already create custom bikes for individuals it only made sense to extend our customization services to companies looking to get a bicycle branded with their logo
Fort Collins, Colorado (PRWEB) June 09, 2015
Big Shot Bikes LLC continues to grow, announcing a major addition to its unique line of custom fixed gear and single speed bikes. After its introduction of the custom cruiser line, Big Shot started getting requests from other businesses to custom brand their bikes.
Owner, Matt Peterson immediately recognized the opportunity. "We soon realized that our bikes were an excellent platform for corporate branding. Since we already create custom bikes for individuals it only made sense to extend our customization services to companies looking to get a bicycle branded with their company logo"
Several businesses reached out to Big Shot to help design a promotional bike that best suited their needs. In the first month of offering branded bikes Big Shot produced bikes for Funkwerks Brewery, Elevations Real Estate, Bay City Orthocare, and Mountain Mary's Cookies.
"Our new branded bike from Big Shot is a refreshing mobile advertising tool that is fun too." Says Mike Neil from Mountain Mary's Cookies.
Big Shot Bikes sees great growth potential by expanding into promotional products. In the first quarter of 2015 corporate sales made up almost 8% of sales. With the branding program in full swing they are able to accommodate everything from individual branded bikes to fleets of over 300 bikes
For more information on Big Shot Bikes, please email Tony DeSarro at tony@bigshotbikes.com or visit online at http://www.BigShotBikes.com