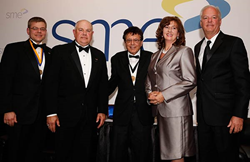 It's truly an honor to receive this award from SME in recognition of my 45-year career to make manufacturing an advanced, high-tech engineering profession.
DEARBORN, Mich. (PRWEB) June 09, 2015
SME, a key resource for the manufacturing industry, recently recognized Yoram Koren (http://www.sme.org/honorary-members/#koren), DSc, HSME, professor emeritus of engineering at the University of Michigan, as its 2015 Honorary Member. Koren received his award at SME's International Honor Award & Scholarship Presentations Ceremony June 1 in Detroit.
This prestigious award is reserved for individuals whose overall contributions to manufacturing align with SME's efforts to promote the importance of manufacturing and attract future generations to the industry.
Koren was chosen for his leadership, innovation and implementation of manufacturing technologies, particularly related to automation and reconfigurable manufacturing systems. Through Koren's graduate courses, he has also impacted a generation of practicing engineers, and provided the knowledge and skill sets required for a new generation of manufacturing technologists.
"It's truly an honor to receive this award from SME in recognition of my 45-year career to make manufacturing an advanced, high-tech engineering profession," said Koren. "High-tech manufacturing is a prestigious profession that contributes to the wellbeing of both the U.S. economy and society as a whole by producing better products, faster and cheaper."
To date, more than 60 manufacturing leaders have received this award. Previous recipients include Heartland Robotics' Rodney Brooks, PhD, HSME; Northrop Grumman Corp.'s Ronald Sugar, PhD, HSME; and the Japan Science and Technology Agency's Professor Hiroyuki Yoshikawa, HSME.
"Professor Koren has the rare ability to understand fundamental business challenges, translate them into technical solutions and finally implement these scientific discoveries on the factory floor," said Susan Smyth, PhD, FSME, chief scientist for General Motors Manufacturing and director of its Manufacturing Systems Research Lab, who presented Koren's award to him. "He partners with senior manufacturing leadership, develops a holistic understanding of the challenges, creates a proof of concept, and then works with OEMs and suppliers to render high-value solutions, which are usable in a production environment."
Nominations for SME Honorary Member candidates can be submitted to the SME president for review. The SME Board of Directors will then choose the winner through a two-thirds majority vote. Once chosen, SME Honorary Members receive dues-free SME membership and can use the designation "HSME" after their names, signifying "Honorary Member of SME." To review additional award information and previous recipients, visit sme.org/honorary-members.
About SME
SME connects all those who are passionate about making things that improve our world. As a nonprofit organization, SME has served practitioners, companies, educators, government and communities across the manufacturing spectrum for more than 80 years. Through its strategic areas of events, media, membership, training and development, and the SME Education Foundation, SME is uniquely dedicated to the advancement of manufacturing by addressing both knowledge and skills needed for the industry. Follow @SME_MFG on Twitter or facebook.com/SMEmfg.