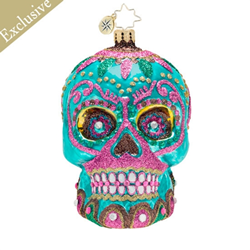 "With the re-design of the top-selling La Calavera ornament, our goal was to incorporate a new color palette and design details while keeping with the Latin flair." -Jana Contardi, Christopher Radko Gallery
(PRWEB) June 09, 2015
For the 2015 holiday season, Christopher Radko Gallery will be featuring yet another line-up of exclusive Christopher Radko holiday and Christmas ornaments. This is due to an ongoing, positive relationship between Christopher Radko Gallery and the ornament manufacturers, as well as, the exclusive ornament's popularity in 2014.
Towards the beginning of last year, Christopher Radko Gallery owners, Jana Contardi and Jennifer Cook, collaborated with ornament artist Joseph Walden to design an exclusive re-coloring of the popular La Calavera ornament.
This original ornament features a teal background, is accented with rich golds and browns, and embellished with glitter and crystals. The name for the new skull ornament, La Calavera Especial, was chosen as a nod to the Latin roots of the "Day of the Dead" holiday designated to honor deceased friends and relatives.
Due to Christopher Radko Gallery's exceptional exclusive ornament sales in 2014, the owners teamed up with the designers once again to produce yet another, all-new ornament for the 2015 holiday season. The Happily Ever After ornament features a Tiffany blue ring box with golden diamond ring sparkling inside. The lid spotlights red writing that can be personalized with a special message for the customers' loved one(s).
In addition to exclusives, Christopher Radko Gallery is offering other Limited Edition Christopher Radko Christmas ornament for the 2015 holiday season. This gallery has a total of fourteen Limited Edition ornaments on top of over 500 new ornaments for sale online this year.
Christopher Radko Gallery is an authorized Christopher Radko retailer and a division of Peace, Love & Decorating. Christopher Radko Gallery, located inside Peace, Love, and Decorating at 3129 Main Street, Duluth, Ga., just 30 minutes north of Atlanta, offers the 2015 Radko ornament collection online at http://www.radko-christmas.com and in-store.