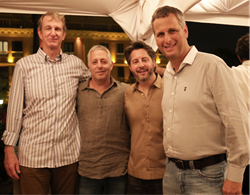 "We are excited to join forces with Tomorro to build on our strong platform. The Board of Directors have worked hard over the past six months with Jon and his team to bring the right vision to light,"
Denver, Colorado (PRWEB) June 10, 2015
The partnership gives the 77-year old WPI its first New York office; now open, located in Union Square, midtown Manhattan. WPI is a global network of independent marketing and advertising agencies with 70 partner agencies operating in over 45 countries with billings of $2.7 billion. Tomorro is a value accelerator company helping clients and agencies identify and own their point of difference in the marketplace and distribute it through multiple channels.
WPI is leveraging its strong global reputation and footprint to transition to a client-centric network in order to help partner agencies and clients better navigate the rapidly changing marketing communications business. "We have some of the strongest independent partner agencies in the world all banded together with a unique culture of collaboration seldom found in any other organization," says Al Moffatt, President and CEO of WPI.
"NYC is the heart of advertising and marketing and Tomorro has a track record of staying ahead of the trends with relevance for both clients and agencies. As of today, all WPI agencies have a NYC office," said Fernando Guntovitch, Chairman of WPI.
"The new office will expose WPI to clients and ad tech suppliers, many of which are headquartered in and around the NYC area," said Jon Bond, Founder of Tomorro and a former Chairman of WPI when Kirshenbaum Bond was a partner agency.
In addition to introducing clients to the network, Tomorro will also aggregate supplier resources to be deployed centrally to any WPI agency. The service called "Medici" after the Florentine family who supported talent such as Michelangelo, will be made available to all independent agencies around the world. Bond further states, "Richard Kirshenbaum and I had an idea years ago that there should be a company that serves the true marketing practitioner; the way the Medici family supported the talent during the Renaissance. We even tried to get MDC to change it's name to Medici since coincidentally, all three letters are contained in the word in just the right order. I'm glad we are finally doing this."
"We are excited to join forces with Tomorro to build on our strong platform. The Board of Directors have worked hard over the past six months with Jon and his team to bring the right vision to light," said Jerry Rosen, Vice Chairman of WPI.
WPI will be looking to add specialist agencies to its partnership, including media, analytics, and social media.
WPI Contact info: Al Moffatt, President & CEO, alm(at)worldwidepartners(dot)com
Tomorro Contact info: Jon Bond, CEO, jonbond(at)tomorrollc(dot)com