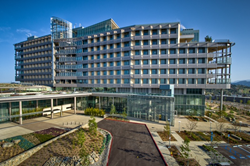 (PRWEB) June 09, 2015
Wilcon, the leading West Coast provider of fiber-optic and data center infrastructure, today announced that it has been selected by Palomar Health to create an ultra-broadband fiber ring between the Escondido-based company's medical centers. Three medical centers in North San Diego County will now have the high-speed data network they need to meet the expanding technological demands of the healthcare industry.
"It's a pleasure to announce Wilcon's part in the expansion of Palomar Health's data connectivity," said Jon DeLuca, CEO of Wilcon. "We're dedicated to supporting the healthcare field in Southern California, and this new project exemplifies our commitment to meeting the primary IT needs of hospitals throughout the region."
"When we sought out a partner to work with for network needs, we knew Wilcon would deliver," said Prudence August, VP of Information Systems for Palomar Health. "This is a relationship that will continue to grow as our needs continue to expand."
To successfully link Palomar's sites together, Wilcon is partnering with San Diego-based AIS Data Centers. The new fiber optic ring will connect Palomar Medical Center, Palomar Health Downtown Campus, Pomerado Hospital and AIS with a high-speed Ethernet network.
"We're honored to partner with Wilcon and support Palomar Health's newest technological endeavor," said Greg Rollet, CEO for AIS. "Integrated collaborations like this are essential when looking to help meet the goals of a thriving hospital network like Palomar."
About Wilcon
Founded in 1998, Wilcon is the premier West Coast provider of best-in-class fiber optical network and data center infrastructure. As one of the largest fiber optic networks in Southern California, Wilcon offers vast reach and diverse routes connecting major data centers, enterprise locations and wireless communications sites, as well as the most dense fiber and interconnection infrastructure in downtown Los Angeles. Wilcon delivers dark fiber and ultra-broadband optical services for businesses, wireless carriers and other communications service providers that ensure optimal performance for their mission-critical data traffic and applications. Wilcon also owns and operates leading data center and carrier-neutral colocation facilities in downtown Los Angeles, including its key hub at the One Wilshire Building. For more information, please visit http://www.wilcon.com or contact us at +1 (888)-600-2800 or info(at)wilcon(dot)com.
About Palomar Health
Palomar Health is the most comprehensive health care delivery system in northern San Diego County and the first and only California member of the Mayo Clinic Care Network. It is the largest public health care district by area in the state, with more than 500,000 residents, and is governed by a publicly-elected board of directors. Palomar Health has several facilities serving North County, including hospitals in Escondido and Poway, expresscare health clinics in Escondido, Rancho Penasquitos, San Elijo Hills and Temecula, and a skilled nursing facility in Poway. The health system provides medical services in virtually all fields of medicine, including primary care, cardiovascular care, emergency services, trauma, cancer, orthopedics, women's health, rehabilitation, robotic surgery and bariatric surgery. For more information about Palomar Health, please visit www(dot)palomarhealth(dot)org.
About AIS Data Centers
AIS Data Centers is the Southwest's market leader for business-ready IT infrastructure for companies that value security, compliance, connectivity, and support. AIS serves as an extension of in-house teams and operates hybrid IT environments with cloud, colocation, connectivity, managed security, and managed storage, enabling more than 500 clients to focus on their core business. Adhering closely to ITIL v3 best practices, AIS undergoes rigorous annual review by third party auditors to verify compliance with SSAE 16 SOC reports. To see why successful CIOs and CFOs choose AIS, visit http://www.americanis.net.