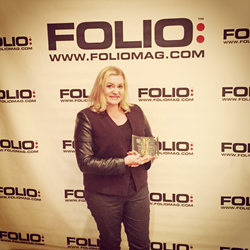 I am ecstatic to have been selected as one of Folio:'s 2015 Top Women in Media. I am also grateful to be considered among women of this caliber
Los Angeles (PRWEB) June 09, 2015
Lindsey Carnett, CEO and President of Marketing Maven, has been selected by Folio: as one of 2015's Top Women in Media.
Folio:'s annual Top Women in Media list celebrates the creativity and accomplishments of women in business. These women have been identified as fearlessly moving their teams, brands, and companies forward, making strides in their respective markets and creating lasting impressions on their colleagues.
The list was chosen by submissions from the women's peers, who have identified these nominees for their accomplishments in the media industry and for having a major influence on the media industry
Carnett was honored in the rising stars category alongside candidates from major media outlets including Bloomberg Media, Entrepreneur Magazine, Glamour and others.
"I am ecstatic to have been selected as one of Folio:'s 2015 Top Women in Media," said Carnett. "I am also grateful to be considered among women of this caliber."
Previously featured in the Forbes Most Powerful Woman Business Leader issue, Carnett has taken her business expertise across America and enlightened marketing peers and those new to the industry about mobile marketing and positive online reputation. Having spoken at Electronic Retailing Association D2C and at the ERA Great Ideas Summit, and guest lectured at universities, Carnett has gained the reputation as an expert in the field of marketing and public relations.
The awards luncheon was held on Monday, June 8, 2015, at the Grand Hyatt in New York City to honor those who had been nominated.
For more information about Lindsey Carnett and Marketing Maven please visit http://www.marketingmavenpr.com.
About Folio:
Folio: is dedicated to providing magazine publishing professionals with the news, insights, and best practices to keep them in tune with today's media industry trends. We have a wide range of resources to help people stay on top of the latest news and find real solutions that help drive revenue.
About Marketing Maven
Marketing Maven is an integrated LA marketing firm with offices in New York focusing on public relations, Hispanic marketing and social media. Their services aid national marketing campaigns and product launches with reputation management, organic SEO tracking, competitive analysis reports and online product reviews to help increase revenue.