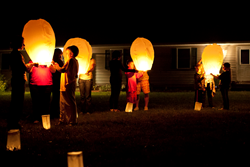 Please visit this link http://bit.ly/1KRFcRa to donate today! Every contribution counts!
Los Angeles, CA (PRWEB) June 09, 2015
Infinity Canopy has partnered with Camp Sundown, a summer night program run by the XP Society to raise money for the building of an Infinity Canopy for campers. Exposure to ultraviolet light is the most preventable risk factor for all skin cancers, and seeking shade is a simple way to protect your skin from the sun's harmful rays. Camp Sundown has a large outdoor area that is devoid of any shade. We want to cover a portion of that space with Infinity Canopy to create a safe place for the campers and their families to enjoy the outdoors in the long summer days ahead.
We are donating the Canopy which will block 100% of the UV rays and fund raising to help to pay for the structure to support the canopy, installation and other related improvements. We will be working hard to get donations from other companies. Current donors include Glen Raven Inc who has donated the Sunbrella fabric we need for the Infinity Canopy and New England Arbors, who has has donated a 12x12 Pergola that provides a frame work to attach the canopy project. With these generous donations we have now brought the cost of building the Infinity Canopy to practically zero! This means all your donations will go directly to help Camp Sundown. Please help Infinity Canopy reach their $5,000 donation goal for Camp Sundown by July 11, 2015.
"We are extremely excited to partner with Camp Sundown to help raise awareness for a cause that truly supports our mission to help people lead healthier, happier and more connected lives. Supporting our community with sun safety is a cause that Infinity Canopy has been fully committed to and it is something I'm very passionate about," said Alan Shargani, Infinity Canopy Founder.
Camp Sundown, founded in 1995 by the parents of a child with the rare disorder xeroderma pigmentosum, whose main symptoms include severe reactions to sunlight, Camp Sundown has been an international haven for children suffering all light-sensitivity disorders and is run entirely on donations. Infinity Canopy will promote the importance of seeking shade, wearing sunscreen and raising awareness for skin safety. This month, Infinity Canopy will begin fundraising to help in building its first shade structure at Camp Sundown by first day of camp, July 11th, 2015.
About Glen Raven:
Glen Raven's Anderson Plant is the company's largest manufacturing center for its market-leading Sunbrella brand of fabrics for awning, marine and upholstery applications. the one-million-square-foot business center is operated by Glen Raven Custom Fabrics and includes highly automated, vertically integrated manufacturing facilities along with research and new product development.
Glen Raven began manufacturing Sunbrella fabrics in Anderson County in 1986 and in 1994 built Anderson Plant, drawing upon the latest in manufacturing technology from around the world. Located at 4665 Liberty Highway, the ultramodern Anderson Plant today employs more than 600 associates.
Founded in 1880, Glen Raven, Inc. today markets products in more than 130 countries worldwide, serving markets that include solar protection, marine, furniture, protective workgear, geogrid, automotive and water filtration. The family-owned company operates manufactuing, marketing and customer service business centers in North and South America, Europe, China and India.
About New England Arbors:
Nearly two decades ago New England Arbors spun out of a local family fencing business in Sarnia, Ontario. We were designing arbors we knew would be popular on a larger scale – and people all over North America have loved our traditional New England designs created in modern low-maintenance vinyl materials ever since.
For more information on Camp Sundown or the non-profit XP Society, please visit their website at http://www.xps.org