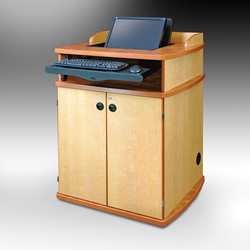 The first "First Run" Computer Collaboration Space Product to be given away by sweepstakes will be the MVC Computer Podium
Baltimore, Maryland (PRWEB) June 09, 2015
SMARTdesks, a twenty first century furniture design company, announced today the beginning of an ongoing social media sweepstakes. The company will roll out its all-new, quarterly "First Run" campaign and give away school and business computer furniture products to its fan base to thank them for their steadfast support over the years. "First Run" computer desk products are innovative designs produced for the SMARTdesks master photography and video studio and used in marketing the products online and in the media. Each "First Run" computer lab desk product is cosmetically perfect, assembled by the designers and engineers,themselves. The technology furniture are staged and lit to best advantage, showing off the distinguishing design and technology integration features at the showroom. As more and more "First Run" computer furniture products go through this cycle, SMARTdesks finds it has to make room in the studio.
The first "First Run" Computer Collaboration Space Product to be given away by sweepstakes will be the MVC Computer Podium with patented flipIT monitor mount and locking technology storage cabinet. Finished in premium laminate and trimmed in contoured, semi-rigid PVC, the design complements the collaborative teleconferencing space showcased in the SMARTdesks HD Studio.
Entries for the GiveAway are underway as of today at this url: https://www.facebook.com/smartdesks/app_529593283749850 and a winner will be chosen at 11:00PM EST on July 8, 2015. The prize is valued at $4530. The winner will be notified via email on July 9, 2015. If the winner does not respond via email within 48 hours, a new winner will be notified.
SMARTdesks designs and manufactures innovative, custom computer conference tables and computer classroom furniture. Each product is made to order, nuanced for the technology, purpose and interior design choices for the space. SMARTdesks is the patent holder for flipIT® products and is the sole source for flipIT and factory integrated flipIT furniture products. Serving universities, corporations, government and military clients world-wide, SMARTdesks furniture is made in the USA using Certified GREEN manufacturing methods. For more information, contact SMARTdesks through the web site— http://www.smartdesks.com