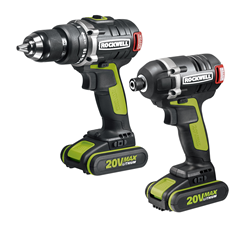 Rockwell's 20V Brushless Drill-Driver and Impact Driver feature brushless motors that extend battery run-time, operate quieter and cooler, and last longer.
Charlotte, N.C. (PRWEB) June 10, 2015
Father's Day is the perfect occasion to elevate Dad's home improvement firepower by giving him the new Rockwell® 20V Brushless Drill-Driver and Impact Driver Combo. This duo of leading-edge cordless power tools features maintenance-free, brushless motors with computer-controlled power distribution that increases lithium-ion battery run-time by up to 50 percent per charge.
If dad is a tool lover, he's reached countless times for his trusty cordless drill-driver or impact driver. But, inevitably, even these home project mainstays become outdated by new tool evolutions that are impossible to ignore. The advent of brushless motor technology is one of those innovations.
Rockwell's brushless drill-driver and impact driver are equipped with smart chips (internal software controls) rather than old-fashioned carbon brushes for more efficient conversion of electricity into mechanical energy for drilling and driving. Besides eliminating carbon brushes that periodically need replacing, less energy is wasted and battery power lasts significantly longer. Brushless motors also are quieter, run cooler and last longer because there's less friction, heat build-up and wear.
Because Rockwell's new brushless motors are more durable, they carry a 10-year warranty, rather than a 3-year warranty for brushed motors. Dad also will appreciate Rockwell's Batteries for Life program, once the tools are registered. Over the life of each tool, this free battery replacement program contributes cost savings of up to 70 percent, compared to owning other tool brands.
The compact Rockwell 20V Lithium-ion Brushless Drill-Driver weighs only 3.4 lbs., including the battery. It features a short headstock for easy access into tight quarters, plus overmold on the back of the handle for a steady grip and a convenient belt clip.
The brushless drill-driver is powered by a 20V MaxLithium, 2.0 Ah battery for longer run time and high working efficiency. The battery also affords more charge cycles with minimal self-discharge. The two-speed gearbox has no-load speeds of 0-600 and 0-2000. Its maximum torque is 531 in./lbs. A 1 /2-inch metal chuck has 18+1 clutch positions to handle a wide range of drilling and driving situations. The tool's drilling capacity is 1-1/2 inch in wood and 1/2 inch in steel.
The companion Rockwell 20V Brushless Impact Driver delivers 1550 in./lbs. of torque, which is likely to tempt dad into tackling deck-building or remodeling projects. This cordless powerhouse drives screws hard and fast in the densest materials all day long. It channels concussions to the screw, rather than the user's wrist or forearm. Its compact size affords easy access into limited clearance areas.
The brushless impact driver has a 1/4-inch chuck and accepts 1/4-inch, hex-shanked bits. The driver has a speed range of 0-2900 no-load rpm and 0-3200 impacts per minute (ipm). The 3.2 lb. impact driver has an LED worklight that doubles as a low-battery-charge indicator when blinking. The LED light continues to stay on for a short period after the trigger is released. The impact driver also features an overmold handle grip and handy belt clip.
The Rockwell 20V Brushless Drill-Driver and Impact Driver Combo (RK1807K2, $279.99) includes two 2.0 Ah lithium-ion batteries, a one-hour charger, two double-ended bits and a soft storage bag. It's available at Amazon and Menards.
Follow Rockwell through social media links, including, Facebook: https://www.facebook.com/RockwellTools?ref=hl and Twitter: https://twitter.com/RockwellTools.