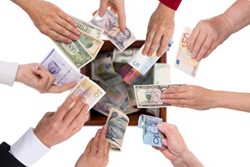 Chicago, IL (PRWEB) June 08, 2015
Financial Poise Webinars is pleased to announce the premier of its webinar, "Negotiating With Potential Investors," the latest installment in "The Start-Up Guide 2015" webinar series.
Co-produced with West LegalEdcenter, "Negotiating With Potential Investors" explains the basic options (debt v. equity) a private company has in raising capital, the pros and cons of those options, how to bet situate a company for success in fundraising, and the basics of negotiating with angel investors and venture capitalists.
The webinar, moderated by James (Beau) W. Hays (Hays Potter & Martin) who is joined by attorneys Peter Feinberg (Hoge Fenton Jones & Appel); Jeffrey D. Kaiser (Elliot Greenleaf); and Drew Whiting (Axia Law), premiers on June 9th but is available thereafter on demand. To register, click here.
Financial Poise provides unbiased news, continuing education, and intelligence to private business owners, executives, investors, and their trusted advisors. For more information and to read free interesting articles go to http://www.financialpoise.com