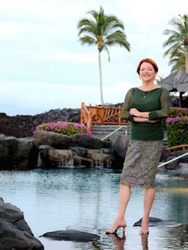 The Big Island of Hawaii offers world class beaches and golf courses, a low-density population, newer construction and lower price points. If you're buying Hawaii real estate, visit the Big Island for luxury value. - Rebecca Keliihoomalu, R(B)
Kamuela, Hawaii (PRWEB) June 12, 2015
It is not surprising that some of the top realtors in the United States are in Hawaii where paradise comes at a premium and property values can be the highest in the country. What is surprising is that one of the Aloha state's exemplary realtors, Rebecca Keliihoomalu, R(B), comes from the outer Island of Hawai'i (aka "The Big Island"). Adding to Rebecca's achievements is that the median price for homes on the Big Island is half that of the capital island of Oahu. Even with the lower real estate price points, Rebecca Keliihoomalu continues to set sales and transactions records for MacArthur Sotheby's International Realty.
Hawaii Business Magazine recognizes Rebecca Keliihoomalu, R(B), as one of Hawaii's Top 100 Realtors of 2015, a Top 50 leader in real estate transactions statewide, and a Top 10 Real Estate agent on the Big Island of Hawaii. Additionally, Pacific Business News recognizes Ms. Keliihoomalu as one of the Top 50 Residential Real Estate agents in Hawaii.
Rebecca Keliihoomalu sees the Big Island's diversity as one of her advantages over the more populous and developed metro-islands. A low-density population, more land for everyone and better values make the Big Island highly attractive to luxury buyers looking for value and the essence of Old Hawai'i. In fact, the highest concentration of wealth in the Aloha state is found on the Big Island's golden Kohala Coast, which speaks volumes to the Big Island's rising status.
Prior to becoming a real estate broker, Ms. Keliihoomalu was a successful entrepreneur who owned and operated a string of high fashion clothing stores. Her operations and marketing experience set her apart as one of Hawaii's most successful realtors and a perfect fit for the prestigious Sotheby's International Realty brand.
Ms. Keliihoomalu was the company-wide Top Producer for MacArthur Sotheby's International Realty in both 2013 and 2014 and is on track to set new sales and transaction records for 2015. Currently, she represents more real estate listings than any other MacArthur agent but is always open to referrals and new clients.
For over 25 years, MacArthur Sotheby's International Realty has served the Big Island as a boutique luxury real estate company offering the best in customer service for distinctive clients. The Sotheby's International Realty network has a marketing reach of over 720 affiliate offices throughout 52 countries with over 15,000 agents in a global referral program.