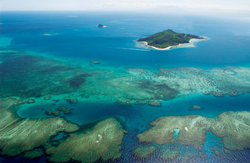 OZONE is an action plan that charts a clear course for Outrigger to make a positive impact in helping to save and protect coral reefs and ultimately the wellness of waters around the world," said Bitsy Kelley.
WAIKIKI, HONOLULU, HAWAII (PRWEB) June 08, 2015
In conjunction with World Oceans Month, Outrigger Resorts has announced the launch of OZONE (Outrigger's ZONE) – a global conservation initiative centered on coral health and resiliency in the waters surrounding the iconic beach destinations of Outrigger Resorts. With over 60 percent of the world's reefs under immediate threat, Outrigger is making it their mission to work with conservation partners to protect coral reef systems in tropical destinations around the world.
Among the most valuable ecosystems on Earth, coral reefs provide humans with billions of dollars in economic and environmental services such as food, protection for coasts, and tourism. In fact, according to The National Oceanic and Atmospheric Administration (NOAA), reefs alone provide up to 15 tons of seafood per square kilometer each year. However, coral faces serious dangers, including the negative impact of climate change, unsustainable fishing, and land-based pollution.
"OZONE is an action plan that charts a clear course for Outrigger to make a positive impact in helping to save and protect coral reefs and ultimately the wellness of waters around the world," said Bitsy Kelley, vice president of corporate communications for Outrigger Enterprises Group. "As a lifelong surfer, swimmer and snorkeler, ocean health is near and dear to my heart and I'm extremely proud that Outrigger Resorts has pledged significant resources and is aligning with key conservation partners for this important cause."
Inspiration for OZONE originated from Geoffrey Shaw, former owner of Castaway Island, Fiji Resort and chairman of the Mamanuca Environment Society – a group passionately committed to protecting the stunning marine and terrestrial environment of the Mamanuca Islands in Fiji. Due to his vision, guests of Outrigger will have the opportunity to be part of the solution, by helping to plant coral at participating properties, such as Castaway Island Resort. "And since coral grows at such a slow rate, the time is now to make a change."
OZONE will generate awareness surrounding the status of coral reef systems while simultaneously enhancing the Outrigger Resorts guest experience through education and authentic interaction. Accordingly, guests will have the opportunity to learn more about the platform via in-room videos, on-property lectures, while also being a part of the solution by planting a coral at participating properties.
To celebrate this worldwide environmental platform, Outrigger kicked off its commitment to ocean health on June 6th at the Waikiki Aquarium in Hawaii – one of the like-minded partners standing behind this important initiative – to celebrate World Oceans Month. The day also marked the signing of a memorandum of agreement between Outrigger and NOAA, stating both parties' commitment to work together to support the conservation and education needs of the public.
"NOAA's Office of National Marine Sanctuaries is extremely proud to participate in the launch of the OZONE project. This unique partnership is quite rare in the federal government and the only one at NOAA between a federal agency and an international hotel chain," stated Allen Tom, regional director of the National Oceanic and Atmospheric Administration. "Our mission of protecting life and property, while conserving this natural resource can only benefit from the collaboration with Outrigger Enterprises group."
Strategic international partnerships for OZONE include the National Oceanic and Atmospheric Administration (NOAA), Polynesian Voyaging Society (PVS), Pacific Islands Ocean Observing System (PacIOOS) and Regionally, Outrigger Resorts will be partnering with local organizations where its beachfront destinations are located. For example: The Waikiki Aquarium in Hawaii, Underwater World in Guam, Mamanuca Environment Society in Fiji, Reef Conservation in Mauritius and more. Corporate partners include Maui Divers Jewelry, Tori Richards, and Best Dives Maldives.
"On Island Earth, our future depends on our ability to care for our ocean; our partnership with Outrigger Resorts for the Mālama Honua Worldwide Voyage will be key in raising awareness of ocean health through OZONE," said Nainoa Thompson, president of the Polynesian Voyaging Society. "Throughout the Worldwide Voyage, we will be celebrating World Oceans Day five times, but in reality, we celebrate our ocean every day."
Outrigger will continue to demonstrate its dedication to the environment through existing and future sustainability and conservation initiatives present at a number of their premier beachfront destinations. With the conception of OZONE, Outrigger will grow its impact for years to come as the hospitality company continues to champion ocean health to travellers and consumers alike.
About Outrigger Enterprises Group
Outrigger Enterprises Group is one of the largest and fastest growing privately held global hospitality companies in the Asia Pacific, Oceania and Indian Ocean regions. As part of its unique hospitality offering, the values-based company extends exceptional hospitality and authentic cultural experiences at each of its properties worldwide. Guided by more than 67 years of family leadership, Outrigger runs a highly successful, multi-branded portfolio of hotels, beachfront resorts, condominiums and vacation resort properties, including Outrigger® Resorts, Hawaii Vacation Condos by Outrigger®, OHANA® Hotels and Resorts, Embassy Suites®, Holiday Inn®, Best Western®, Wyndham Vacation Ownership® and Hilton Grand VacationsTM. Currently, Outrigger operates and/or has under development 43 properties with approximately 10,000 rooms located in Hawaii; Australia; Guam; Fiji; Thailand; Mauritius; Maldives; Vietnam; and Hainan Island, China. For online information, log on at http://www.outriggerenterprisesgroup.com and http://www.outrigger.com.
Join Outrigger's social network to Find Out. Find Outrigger! Follow @OutriggerResort on Twitter or become a fan on Facebook at http://www.facebook.com/OutriggerResorts. For ongoing news, visit http://news.outrigger.com.