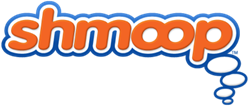 Shmoop's Credit Recovery is built out of the same standards-aligned course material that earned our courses a-g certification.
Mountain View, California (PRWEB) June 09, 2015
First impressions are never easy—and other than Mr. Darcy, no one knows that better than a struggling student. But Shmoop (http://www.shmoop.com), a digital publisher known for its award-winning Test Prep and certified Online Courses, is at the ready with second chances galore. Shmoop now offers a credit recovery option for all of its core math and ELA courses. Teachers can identify students' strengths—and slightly weaker strengths—and allow them to relearn concepts, pass an assessment, and recover their credit for a course.
Teachers have Big Brother-like control over the process—minus the creepy mustache. They can choose which units to include and what the time limits will be for all tests and exams. Once it's set up, students take a multiple-choice, timed diagnostic, which focuses on the key topics and standards of the unit and assesses whether they've acquired a ninja-like mastery of the material. If students don't nail the diagnostic, Shmoop sheds a single tear and then directs students to the appropriate unit. Students then need to pass the unit test with a score of at least 70% to prove mastery and cash in that second chance.
"Shmoop's Credit Recovery is built out of the same standards-aligned course material that earned our courses a-g certification," says Ellen Siminoff, president and CEO of Shmoop, "and our signature Shmoop humor will engage even the most checked-out students."
Teachers and students can view their progress and grades in Shmoop's virtual grade book—red pens optional—and educators will sleep well knowing that the credit being recovered is as intensive and rigorous as the original material. Discounts for Shmoop's Online Courses are available for schools and districts; contact sales(at)shmoop(dot)com for more information.
About Shmoop
Shmoop is a digital curriculum and test prep company that makes fun, rigorous learning and teaching resources. Shmoop content is written by experts and teachers, who collaborate to create high-quality and engaging materials for teachers and students. Shmoop Courses, Test Prep, Teaching Guides, and Learning Guides balance a teen-friendly, approachable style with academically rigorous concepts. Shmoop sees 11 million unique visitors a month on its site and offers more than 7,000 titles across the Web, iPhone, Android devices, iPad, Kindle, Nook, and Sony Reader. The company has been honored twice by the Webby Awards, named "Best in Tech" twice by Scholastic Administrator, and awarded Annual Education Software Review Awards (EDDIES) three years in a row. Launched in 2008, Shmoop is headquartered in a labradoodle-patrolled office in Mountain View, California.