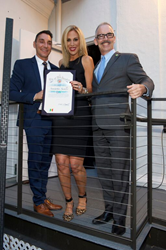 Los Angeles, California (PRWEB) June 10, 2015
On June 3, 2015 Samantha Sackler was awarded The City of Los Angeles Proclamation by Mitch O'Farrell, Councilmember,13th District and Mark Supper, Executive Director of The Los Angeles Youth Network (LAYN) The award presentation took place at The Key of Hope 30th Anniversary Gala supporting LAYN.
This honor was bestowed to Samantha Sackler for her work with The Los Angeles Youth Network. LAYN is a non-profit organization whose mission is to end youth homelessness. They provide shelter, food and counseling to homeless, runaway and foster youth ages 12-17.
Samantha Sackler Owner of Samantha Sackler Productions and designer8* Event Furniture Rental states- "I am incredibly honored and proud to be recognized by the City of Los Angeles. The Los Angeles Youth Network is near and dear to my heart and an incredible organization. I am truly grateful for the opportunity to work and raise money to support LAYN and all the great work they do for youth that desperately need their support and care.
About designer8* Event Furniture Rental
designer8* Event Furniture Rental offers a wide array of trendsetting furniture, accessories, draping and scenic pieces that range in style from classic to contemporary. Our collections are designed and created specifically for the event industry to bring high-end style along with functionality to every event. We have extensive experience on a wide variety of events, including movie premieres, corporate events, and weddings. For more information http://www.designer8furniturerental.com
About Samantha Sackler Productions
Samantha Sackler Productions is a full-service, fully integrated marketing and event production company that has seen over 1,000 events through from conception to execution. Ranging from movie premieres and product launches to corporate events and weddings, events by Samantha Sackler are consistently impeccable and always unforgettable. Most recent events include 20th Century Fox movie premiere and after party for SPY and the Warner Bros.movie premiere after party for San Andreas. For more information http://www.samanthasackler.com