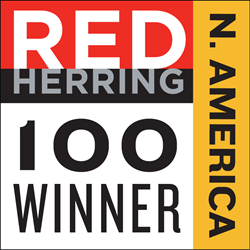 This award is a testament to the achievements and successes that our technology, partners and dedicated employees are bringing to organizations around the globe.
Sunnyvale, CA (PRWEB) June 09, 2015
iCharts, a pioneer in cloud-based Visual Collaborative Intelligence announced today it has been selected as a winner for Red Herring's Top 100 North America award. The award recognized the leading private companies from the region, celebrating these startups' innovations and technologies across their respective industries.
"We are honored to have been selected as a winner in Red Herring's Top 100 North America awards" said Seymour Duncker, Founder and CEO, iCharts. "This award is a testament to the achievements and successes that our technology, partners and dedicated employees are bringing to organizations around the globe. Our easy-to-use, yet comprehensive data visualization platform is re-defining how people and organizations interact with data."
Red Herring Top 100 America enlists outstanding entrepreneurs and promising companies. It selects the award winners from approximately 1,200 privately financed companies each year in the US and Canada. Since 1996, Red Herring has kept tabs on these up-and-comers. Red Herring editors were among the first to recognize that companies such as Facebook, Twitter, Google, Yahoo, Skype, Salesforce.com, YouTube, Palo Alto Networks and eBay would change the way we live and work.
"In 2015, selecting the top achievers was by no means a small feat," said Alex Vieux, publisher and CEO of Red Herring. "In fact, we had the toughest time in years because so many entrepreneurs had crossed significant milestones so early. But after much thought, rigorous contemplation and discussion, we narrowed our list down from hundreds of candidates from across North America to the North America winners. We believe iCharts embodies the vision, drive and innovation that define a successful entrepreneurial venture. iCharts should be proud of its accomplishment, as the competition was very strong."
Red Herring's editorial staff evaluated companies on both quantitative and qualitative criteria, such as financial performance, technological innovation and intellectual property, DNA of the founders, business model, customer footprint and addressable market. A review of the track record and standing of startups relative to their sector peers, allowed Red Herring to see past the "buzz" and make the list a valuable instrument of discovery and advocacy for the most promising new business models in North America, complement this assessment of potential.
About iCharts
Based in Sunnyvale, Calif., iCharts is the unrivaled leader in Collaborative Visual Intelligence, trusted by leading brands such as The Coca-Cola Company, IDC, MarketWatch and Dun & Bradstreet. iCharts was also a finalist in the 2015 SIIA Software CODiE Awards for Best Business Intelligence/Analytics Solution. Its cloud-based visual analytics platform empowers everyone to quickly visualize complex business information, large-scale research and dynamic data sets. Its simple, easy-to-implement solutions empower users to rapidly create, distribute and collaborate via comprehensive dashboards, interactive reports and intuitive charts. Data Insights and Intelligence are rapidly distributed and disseminated, delivering knowledge and empowering decisions. Visit http://icharts.net for more information and join the conversation @icharts.
###
iCharts is a registered trademark of iCharts, Inc. All other trademarks and product names are the property of their respective companies.