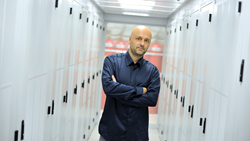 Avalon is changing how small business owners host their sites - it's a game changer.
NYC, New York (PRWEB) June 11, 2015
Lenovo Group Ltd. announced that one of the world's oldest hosting providers, Avalon, selected Lenovo's platform over competing offerings for expanding its cloud hosting infrastructure to support increasing client demands and growth.
Established in 1997, Avalon is a cloud service provider offering full hosting capabilities on open-source platforms, including OpenNebula, Ceph and Linux. It provides services such as web hosting, virtual private servers, email, and domain management to more than 20,000 websites worldwide.
Avalon's services are specially tailored for small businesses, aiming to provide them with a simple to use, elegant and affordable home for their websites with secure and automated management from any place, any device and at every moment.
After the initial launch of its platform Avalon is faced with a growing demand for hosting services from existing clients and the huge number of new daily signups. While adhering to the same quality of service, security and speed, Avalon decided to expand its IT infrastructure on a hybrid cloud model using Lenovo System x3550 and x3650 servers. This setup provides enough bandwidth and storage space to accommodate future growth.
"The Lenovo solution was a perfect match for us," said Damir Mujic, Avalon's Founder and CEO. "In order to expand capacity to take on new opportunities in the U.S. while maintaining high service levels for existing customers, we needed a reliable and responsive vendor offering a robust platform — which we found in Lenovo and System x. In addition, with Lenovo we are able to fully design and control our customer experience and to build our next generation web-hosting platform the way we imagine it. This partnership is going to change the way small business owners host their sites - it's a game changer."
About Avalon
Avalon's mission is to become a home for every small business website. Running a website doesn't have to be a complex, time-consuming and expensive task. Avalon is hosting made easy - with an elegant and simple to use dashboard to help owners boost their online business unlike any other hosting provider out there. For more information about the benefits of hosting a website with Avalon, please visit http://www.avalon.host.