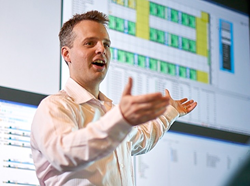 White Paper 202 discusses the criteria for selecting IT rack power distribution, and outlines practical decisions required to reduce downtime.
London, United Kingdom (PRWEB UK) 10 June 2015
Schneider Electric, a global specialist in energy management, has announced a new White Paper #202; "How to Choose IT Rack Power Distribution", which discusses the criteria for selecting IT rack power distribution from the myriad of choices available, and outlines the practical decisions required to reduce downtime.
Power distribution units (PDU) are available with a variety of different features, power ratings, and input and output cord combinations. Selecting the right rack PDU for the application can sometimes be difficult, especially without exact information about the equipment that will go populate a rack. Trends such as virtualization, converged infrastructure (compute, storage, and networking), and high efficiency add to the need for a comprehensive strategy for managing equipment in IT racks.
The choice of PDU for use in a particular rack will depend on the equipment housed in the rack, the site power distribution and the preference for additional functionality. Typically the selection process for PDU follows a five-step "inside out" order in which one determines first the output plug type and quantity, then estimates the power capacity, next determines input plug type, selects visibility and control options for branch circuits and finally selects the form factor and mounting.
White Paper 202 discusses each of these five steps in detail. It outlines the various methods that are available for estimating the maximum power required per IT rack, and describes a sizing tool from Schneider Electric that helps estimate a realistic power usage based on specific models and configurations of the equipment housed in a rack.
For determining the input plug type, the White Paper discusses how decisions about the overall row power distribution should be made, including whether to deliver single or 3-phase power to a rack. The site power distribution scheme (voltage and phase) and the estimated power requirements will dictate the input power cord or whip amperage needed for the IT rack. Steps necessary to mitigate the risk of overloads are also discussed.
Options for providing visibility into rack-level power status are also described, covering basic, monitoring and metering views and the situations in which each is appropriate. Finally, the various options for selecting the right form factor, horizontal or vertical, and the most apposite mounting method are described.
The author, Brian Mitchell, is Product Manager for Racks & Enclosures for Schneider Electric's IT Business Unit. With 8 years of professional experience, Brian has managed various projects related to power distribution and telecommunications
White paper 202; "How to Choose IT Rack Power Distribution" is available for free download from http://www.apc.com/whitepapers
About Schneider Electric
As a global specialist in energy management and automation with operations in more than 100 countries, Schneider Electric offers integrated solutions across multiple market segments, including leadership positions in Non-residential & Residential Buildings, Industries & Machines Manufacturers, Utilities & Infrastructure and Data Centers & Networks. Focused on making energy safe, reliable, efficient, productive and green, the Group's 170,000 employees achieved revenues of 25 billion euros in 2014, through an active commitment to help individuals and organizations make the most of their energy.
http://www.schneider-electric.com
Press Contact:
Schneider Electric
Lavina Dsouza
Phone: + 44 7887 560218
Lavina(dot)dsouza(at)schneider-electric(dot)com
Press Contact:
Spa Communications
Rory Flashman
Phone: +44 1892 511413
rflashman(at)spacomms(dot)com