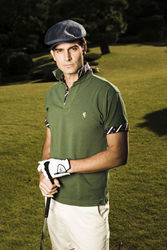 FORTUNA Tokyo opened it's corner at Mitsukoshi Nihonbashi and "Bitouka" located inside the luxury hotel of "Keio Plaza Hotel".
Tokyo, Japan (PRWEB) June 10, 2015
FORTUNA Tokyo, Japanese leading luxury brand for men's fashion is proud to announce the launch of its new polo shirt & folding fan.
Polo shirts are made from the finest fabrics in Japan with the motifs of "Pegasus", "Lion" and "Samurai" in the collar and sleeves. They can be rolled and flipped, depending on whether you are at work or in private. These motifs are also designed in the button as well.
FORTUNA Tokyo blends the history of folding fans with Nishijin weaving, by using 100% silk fabric with bamboo frames. Kyoto folding fans have not changed their style and elegance since they started 1200 years ago. Each folding fan is carefully hand made by Kyoto's craftsmen ensuring that they are of heirloom quality. They come with a bag with the same design also made from Nishijin weaving and in a gift box. Fans come with the design of "Samurai" to "Sakura", in a wide variety of selections. Designs of folding fans and other products match creating an integrated world throughout various lineups. In ancient Japan, folding fans were used as a method to exchange love poems between loved ones.
Each product comes with a different message bringing fortune to the people that possess them. Samurai has the message card "Be positive and goddess of fortune shall smile and embrace you".
FORTUNA Tokyo is seen in Japanese T.V. dramas such as TBS Drama "Affairs Office in the Sky" worn by Gou Ayano, Fuji TV Drama "Honey Trap" worn by Akira from EXILE, TBS Drama "Girls in the Bar" worn by Kato Masaya, TBS Drama "KUROKOCHI" worn by Kawamura Yosuke, TV Asahi Drama "The Weather Girl Knows" worn by Tadayoshi Okura and many more.
Online Shops
http://global.rakuten.com/en/store/fortunatokyo/?s-id=borderless_browsehist_en
http://fortunatokyo.com/?lang=en
http://www.amazon.co.jp/s/keywords=fortuna+tokyo
facebook
https://www.facebook.com/fortunatokyo
FORTUNA Tokyo is sold at the following stores
Mitsukoshi Nihonbashi
1-4-1, Nihonbashimuromachi, Chuo-ku, Tokyo
Open Hours 10:00am to 7:00pm
http://mitsukoshi.mistore.jp.e.ki.hp.transer.com/store/nihombashi/index.html
folding fans & neckties
"BITOUKA" South Building 3F Keio Plaza Hotel Tokyo
2-2-1 Nishi-Shinjuku, Shinjuku-Ku, Tokyo
Open Hours 10:00am to 7:00pm
http://www.keioplaza.com/
folding fans & neckties
Contact: sales(at)fortunatokyo(dot)com
Marketing: Miwa Yosuke
Address:Premium Youzone Fl.5
2-23-12,Higashi,Shibuya-ku,Tokyo,150-0011, Japan
Tel+81-3-5778-0387 Fax+81-3-5778-6827
FORTUNA Tokyo
Strive not to be successful, but for value and quality. FORTUNA Tokyo, the most luxury brand in Japan, brings a new and innovative lifestyle to 1200 years of Japanese craftsmanship. Many of the FORTUNA Tokyo's products are based on Kyoto "Nishijin", considered to be the world's most beautiful silk weaving method. Until recently, Nishijin was only used in the finest kimonos. Now FORTUNA Tokyo combines this ancient Japanese tradition with a creative design philosophy to create unique products for the modern world. Present of character.
Nishijin Weaving
The roots of Kyoto Nishijin weaving go back to the 5th and 6th century where the craftsman lived in Kyoto, later on called Nishijin district which mostly flourished from 1,200 years ago, at the age of Heian-kyo, as Emperor's textile workshop. The dream of this heritage coming to real life today, expresses the wonders of beauty and tradition descended to the next generation in a new style.