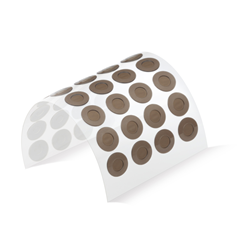 The new GAW331 protects devices against liquid ingress and maintains high-performance acoustics at levels not previously achieved.
Elkton, MD (PRWEB) June 10, 2015
W. L. Gore & Associates announces the launch of the GORE® Portable Electronic Vent GAW331 – a new acoustic vent that raises the bar for immersion performance in wearables, action cameras, smartphones, and other portable electronic devices. GORE® Acoustic Vent GAW331 is engineered specifically to maintain a device's sound quality even after immersion in 30 meters (3 bar) of water for 10 minutes – an unsurpassed level of performance.
"Today's consumers expect reliable performance from their portable electronic devices, whether they are snorkeling with their action camera or swimming with their smartwatch," said Gore's Sara Ellis, who partnered with fellow Product Specialist Shigeharu Murayama to lead the development of this new vent for immersion applications.
"The new GAW331 protects devices against liquid ingress and maintains high-performance acoustics at levels not previously achieved," said Shigeharu Murayama. "It does so by minimizing attenuation and holding transmission loss below 2 dB at 1 kHz with a 3 mm vent diameter."
Maximum protection at the highest industry standards
The GORE® Acoustic Vent GAW331 delivers reliable protection and immersion performance, as measured by the most rigorous industry standards. It complies with ISO 22810, the standard that defines water resistance for watches, meaning the GAW331 vents withstand immersion at 30 meters for 10 minutes without leaking.
The new Gore GAW331 also complies with standards relevant to smartphone applications, such as IEC 60529 for Ingress Protection (IP). Under this standard, the GAW331 qualifies for both the IP67 rating (temporary immersion in 1 meter of water for 30 minutes) and IP68 rating (continuous immersion in 10 meters of water for 60 minutes and 30 meter submersion for 10 minutes).
In addition, the new Acoustic Vent GAW331 has been engineered to deliver a typical airflow of 285 ml/min/cm2 (dp = 70 mbar). This provides the optimal balance of two critical – and competing – performance requirements:

A highly-protected housing that meets ISO and IEC standards
A highly-breathable housing that reduces transducer bias and delivers high-quality acoustics
An extremely thin ePTFE membrane is the key
The GAW331 uses a unique oleophobic ePTFE (expanded polytetrafluoroethylene) membrane to deliver high performance in very small electronic devices. With a typical part thickness of just 0.28 mm, this extremely thin black membrane with adhesive attachment is ideal for applications where housing space is limited.
The membrane's node-and-fibril construction permits gas molecules (air) to pass through easily, while effectively blocking the entry of water and solid particles, regardless of size or shape. This structure is also highly responsive to sound waves, so as they pass through this membrane, acoustic integrity is maintained. The result is high-quality sound – with exceptional waterproof protection against anything from light rain to complete immersion.
The GAW331 is available in a standard product size of 1.6 mm inner diameter x 4.2 mm outer diameter. Customized product sizes are also available and can be designed for specific application requirements. Gore has application teams worldwide, collaborating with leading OEMs to design solutions that deliver the best combination of high-quality acoustics and reliable ingress protection for small electronic devices.
For more information about GORE® Portable Electronic Vents products, visit http://www.gore.com/portableelectronics or call 1-800-523-4673 (USA).
About W. L. Gore & Associates, Inc.
Gore is a technology-driven company focused on discovery and product innovation. Well known for waterproof, breathable GORE-TEX® fabric, the company's portfolio includes everything from high-performance fabrics and implantable medical devices to industrial manufacturing components and aerospace electronics. Founded in 1958 and headquartered in Newark, Delaware, Gore employs approximately 10,000 associates in 30 countries worldwide. Gore is one of a select few companies to appear on all of the U.S. "100 Best Companies to Work For" lists since the rankings debuted in 1984. The company also appears regularly on similar lists around the world. Learn more at gore.com.