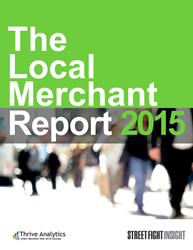 Small businesses are ready to take the plunge with the latest wave of hyperlocal vendors.
Boulder, Colorado (PRWEB) June 10, 2015
Street Fight, an integrated media company focused on the business of hyperlocal marketing, commerce and technology, today launched its third Local Merchant Report. Combining results from a survey of 500 small businesses conducted by Thrive Analytics for Street Fight and in-depth interviews with merchants and operators, the report offers deep insight into the state of hyperlocal marketing.
Key findings include:

Two-thirds of survey respondents use social media for lead generation (42%) and to build brand awareness (39%)
42% of respondents cite lack of time as their biggest digital marketing challenge
The majority (58%) of small businesses surveyed work with a single marketing provider
Only 22% of small businesses currently use mobile marketing
47% of businesses said email marketing is the most effective form of media
Produced by Street Fight Insights research director David Card and senior editor Stephanie Miles, the metrics-rich report reveals that small businesses remain laser-focused on growth, with 54% of established businesses citing new customer acquisition as the primary objective of their local marketing efforts. However, most are still uncertain about how to effectively measure results.
"Local merchants have embraced digital marketing tactics like online advertising, email, and social media - they deem them more effective than traditional channels," says Card. "Yet 38% say they haven't seen a return on their social media marketing efforts. Most aren't measuring the effectiveness of their marketing efforts well, pointing to a need for simpler analytics tools and templates."
Yet despite this lack of reporting, spending continues to increase, with mobile ads on Facebook and Google, among others, leading that growth. "Small businesses are indicating loud and clear that they're ready to take the plunge with the latest wave of hyperlocal vendors," says Card. "However, they are still looking for the right pitch at the right time."
"The 2015 Local Merchant Report" equips marketing and advertising professionals with critical insights on the state of the market and offers the most comprehensive source available for understanding how to target individuals at key moments in the purchase cycle.
This report arms suppliers with new tools to:
Identify the channels and results merchants value most
Understand what motivates merchant spend
Empower merchants to better manage their digital campaigns
Pitch to address key concerns and overcome objections
Gain deeper insight into what merchants want next
With 6 out of 10 local businesses (57%) now engaged in digital marketing and spend continuing to increase, this report serves as a primary resource for understanding what merchants want now.
The report is available to the public for purchase at http://streetfightmag.com/product/the-local-merchant-report-2015/