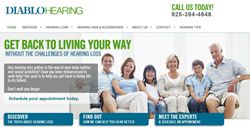 San Ramon, CA (PRWEB) June 09, 2015
Diablo Hearing Services suggests taking a different approach to convincing those with hearing loss to schedule a hearing test, using several techniques backed by social-scientific research in influence and persuasion.
It turns out that it's not as simple as just telling people that they need their hearing checked. They won't see the need, and people won't get very far using threats, ultimatums, or other coercive tactics, according to Diablo Hearing Services. While it may seem like an impossible situation, there are other, more subtle approaches people can use. In fact, it's possible draw from the massive body of social scientific research that shows which techniques of persuasion have been found to be the most consistently effective.
Diablo Hearing Services describes six such techniques in a recently published article, borrowed from the research on social influence and persuasion conducted by Dr. Robert Cialdini and presented in his book "Influence: The Psychology of Persuasion."
The six techniques are labeled reciprocity, commitment and consistency, social proof, liking, authority, and scarcity. Definitions and examples of each are provided in the original article, which includes unique examples that go above and beyond the standard advice typically encountered.
One example is the creative use of social proof, where the spouse of an individual with hearing loss schedules a test for themselves, then requests that the spouse with hearing loss accompany them to get their own.
Diablo Hearing Services suggests that people tell their loved one that they want to check on the health of their own hearing, but that they would feel better if their loved one went with them and had their own test.
Another example is using the principle of liking and authority to enlist the help of those whom the person with hearing loss likes and respects. According to Diablo Hearing Services, people can enlist the help of those they know their loved one likes or respects. They can then have that person discuss and recommend a hearing test.
The original article can be found in the hearing tips blog, at http://www.diablohearing.com/blog/.
About Diablo Hearing Services
Diablo Hearing Services is a full-service audiology practice located in San Ramon, CA. Equipped with state-of-the-art technology and compassionate staff, the practice offers comprehensive services including hearing tests, hearing aid evaluations, custom hearing aid fittings, hearing aid cleanings, rehabilitative counseling, preventive care advice, and service and repair for most hearing aid models.
Contact:
Christine S. Mahon
Diablo Hearing Services
http://www.diablohearing.com
925-394-4646