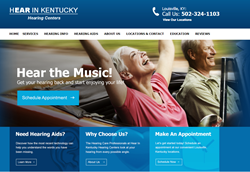 Louisville, KY (PRWEB) June 09, 2015
Many people are unfamiliar with the process of having their tested, and finding information about the process can be difficult. In response, Hear In Kentucky has published an article detailing the start-to-finish process of a hearing exam.
While most people have experience with the family physician and the local dentist, the trip to the hearing specialist may be a first. But the process of having a hearing test is usually easy, comfortable, and pain-free, according to Hear In Kentucky.
After the patient arrives at the office and completes some forms, the process of testing a patient's hearing is completed in four parts.
The first part is the case history, where the hearing specialist gets to know the patient, their medical history, and their hearing loss symptoms. Preparation for this step is critical, because this is where the patient gets to tell the hearing specialist the specifics of their hearing loss, what they expect from treatment, and their special hearing needs, according to Hear In Kentucky.
After the case history, the hearing specialist will begin the physical examination of the ear, which includes two procedures known as otoscopy and tympanometry. Then, hearing is measured through a collection of procedures called audiometry. Together, the tests indicate the type and degree of hearing loss and the best way to address it.
The final step is a review of the results and the planning of treatment. If hearing loss is caused by underlying medical conditions, the hearing specialist can make the appropriate referral. If not, the hearing specialist can begin discussing treatment options.
If the person's hearing loss can benefit from assistive listening devices or hearing aids, the hearing specialist will work with them to select the best option for their budget, lifestyle, and cosmetic concerns.
For more information on hearing tests, the original article titled "what to expect at your hearing exam" can be found at http://www.hearinkentucky.com/hearing/articles/.
About Hear In Kentucky
In November 1992, President and COO Robert Marshall III founded Hear In Kentucky Hearing Centers in a small room located in the back of the Charles Krebs Optical Shoppe. Shortly after forming Hear In Kentucky Hearing Centers, Roy Martin joined Mr. Marshall, as his partner. Both Mr. Marshall and Mr. Martin wanted to fill a much needed gap in the Louisville hearing aid market by supplying the best hearing aids available at reasonable prices with expert testing and no pushy sales tactics. Today, after over 20 years in operation, Hear In Kentucky has successfully grown to become one of Louisville's largest independent network of licensed hearing healthcare providers with 3 offices throughout the city.
Contact:
Greta Ratliff
Hear In Kentucky
502-324-1103
http://www.hearinkentucky.com