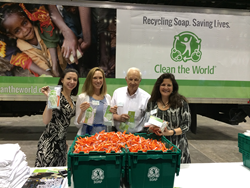 This was truly giving back
ARLINGTON, VA, (PRWEB) June 19, 2015
IMN Solutions, a global, full-service association, meetings and event management company attended the AWEA WINDPOWER 2015 Conference & Expo in Orlando, FL on May19-20 to support their client, the American Wind Energy Association (AWEA) and their partnership with the Clean The World organization.
The mission of Clean The World is protecting the environment and improving sanitation in developing nations to help combat health threats to children, hosted an onsite booth to build 4,000 hygiene kits. IMN Solutions, along with AWEA worked on constructing the kits in addition to giving a monetary donation to the organization.
"IMN is pleased to support our clients' philanthropic initiatives and we were thrilled to be a part of such an amazing effort," said Irene Angelos, vice president, client development of IMN Solutions.
AWEA and IMN Solutions along with other partners, have provided the funding for 6,000 kits to date and plan to donate $1 dollar per completed attendee survey as its final 2015 contribution.
"This was truly giving back," said Elesha Peterson Carr, senior director of conference planning & event logistics at AWEA. "Our team values the strong, decade-long relationship with IMN Solutions and we look forward to the even greater things we can accomplish together in the future."
The kits are filled with various hygiene products made from unused and recycled products and are provided to local charities. The kits made by IMN and AWEA were given to the Orlando Women's Shelter.
# # #
About IMN Solutions
IMN Solutions is a full service global company dedicated to the success of its clients and industry partners by providing exceptional association, meeting and event management services. It includes IMN TechNet, LLC, IMN Association Management, LLC and IMN Event Solutions, LLC. IMN Solutions serves as the leading advocate and essential partner for its clients and industry associates through its global network. Association and event clients benefit from access to industry leading association and event management experts, engagement in a professional community comprised of over a thousand association and event executives and utilizing IMN Solutions; volume buying power. For more information, visit http://www.imnsolutions.com or call (703) 908-0707.