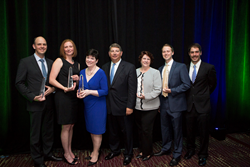 Herndon, Virginia (PRWEB) June 09, 2015
The Northern Virginia Technology Council (NVTC) announced the winners of the 19th Annual Greater Washington Technology CFO Awards last night at a ceremony held at The Ritz-Carlton, Tysons Corner in McLean, Va. The CFO Awards recognize local chief financial officers and financiers for outstanding achievement and excellence in promoting the area's technology community. In addition, April Young was honored as the winner of the Michael G. Devine Hall of Fame award for her contributions to the national capital region's technology business community during the course of her career.
The winners are as follows:
Private Company CFO of the Year: Rebecca Stahl, Lightbridge Communications Corporation – Rebecca (Becky) Stahl is Lightbridge Communications Corporation's (LCC) CFO. Prior to this position, Stahl held management positions of increased levels of responsibility since her arrival in August 2007. Stahl joined LCC from BT Infonet, where she was manager of financial planning before working as the senior director of finance and administration. Prior to that, Stahl served as a financial analyst in The Walt Disney Company corporate planning group. Stahl is a CPA, and earned an MBA degree from the University of California Los Angeles, with an emphasis in finance. Stahl earned a bachelor's degree in accounting from the Pennsylvania State University.
Public Company CFO of the Year: Cathy Graham, 2U – Cathy Graham brings more than 25 years of experience in senior financial roles, largely in technology and technology-enabled companies. Her experience includes leading three successful IPOs, raising more than $150 million in private equity and closing numerous strategic acquisitions and organizational sales. Prior to joining 2U, she was CFO for Online Resources Corporation and VIA NET.WORKS Inc. Prior to VIA NET.WORKS, she was vice president of finance and the investor relations officer for Yurie Systems, and headed the transition team after the sale of that company to Lucent Technologies. Graham holds an MBA from Loyola University Maryland.
Emerging Growth CFO of the Year: Bas Brukx, Clarabridge – With his background in financial and operational planning in high tech companies, Bas Brukx steers Clarabridge through high growth and positioning the company for future success. Brukx served as vice president of financial planning and analysis at Vocus. He also held financial management positions at Nexchange, WorldPort Communications and MCI Worldcom. Brukx fondly remembers a customer service interaction via Twitter: the company asked him to call their service line, but he replied "Why don't you call me?" And they did!
Financier of the Year: SWaN & Legend Venture Partners – SWaN & Legend Venture Partners invests in companies that are building engaging brands, worthy of consumers' passions, across a number of industries, as well as the B2B companies that support them. The SWaN & Legend team is partial to transformative organizations and looks to be active and influential in the companies in which they invest, providing guidance, support, resources and confidence to the teams. The firm takes pride in utilizing its professionals' experience, energy and deep network of friends and partners to continue to build high-growth businesses. The firm is led by Fredrick D. Schaufeld, Anthony Nader, David Bosserman and Todd Klein.
Michael G. Devine Hall of Fame Award: April Young – April Young is a managing director in Hercules Technology Growth Capital's McLean, Virginia office. Among her many instrumental roles, Young held high level positions at MMVF, the Mid-Atlantic Technology and Life Sciences division with Comerica Bank, the Potomac KnowledgeWay Project and the George Mason University's Institute for Public Policy. Young also has served as director of a number of professional organizations. In addition, she co-founded Mindshare, an invitation-only program for CEOs of early-stage companies. Young holds a Ph.D. in public policy and administration from Saint Louis University and a B.A. and a masters in urban and regional planning from The George Washington University.
# # #
The Northern Virginia Technology Council (NVTC) is the membership and trade association for the technology community in Northern Virginia. As the largest technology council in the nation, NVTC serves about 1,000 companies from all sectors of the technology industry, as well as service providers, universities, foreign embassies, nonprofit organizations and governmental agencies. Through its member companies, NVTC represents about 300,000 employees in the region. NVTC is recognized as the nation's leader in providing its technology community with networking and educational events; specialized services and benefits; public policy advocacy; branding of its region as a major global technology center; initiatives in targeted business sectors and in the international, entrepreneurship, workforce and education arenas; the NVTC Foundation, a 501(c)(3) nonprofit charity that supports the NVTC Veterans Employment Initiative and other priorities within Virginia's technology community; the Equal Footing Foundation, a 501(c)(3) nonprofit charity that serves local area youth; and The Entrepreneur Center @NVTC, which mentors new technology entrepreneurs. Visit NVTC at http://www.nvtc.org.