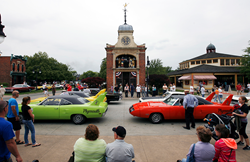 Dearborn, Mich. (PRWEB) June 10, 2015
During the mid-1960s, a whole new breed of American-made two-door coupes equipped with "power plants" and designed for "straight line" speed began to make their debut, creating a new genre of automobile, the American muscle car. Celebrate the rise of these American icons and the one car that paved the way– The Henry Ford's own 1965 Pontiac GTO – at this year's Motor Muster in Greenfield Village, June 20 -21, 2015. Motor Muster is a car enthusiast's dream weekend with the streets and lawns of Greenfield Village filled with more than 850 muscle cars, pony cars, glamorous classics, military vehicles, fire trucks, motorcycles and more dating from the 1930s to 1970s.
In celebration of the American muscle car, a special display featuring specially chosen vehicles will be located on the Village Green across from Town Hall. Muscle car fans can learn more about the innovations inside the featured vehicles during special pass-in-review presentations each day at 1 pm on Main Street with Matt Anderson, curator of transportation at The Henry Ford and Andrew Beckman, archivist and automobile historian at the Studebaker Museum in South Bend, Ind.
Throughout the weekend, guests can see many of the vehicles take to the streets during the pass-in-review parades, vote who should take home the Popular Choice Award, and learn why this is considered one of the most innovative eras in automotive history from Michigan's top automotive experts including, Marty Bufalini, Dave McConnell, Bill Porter, Robert Riegle, Tom Ross, Bob Strucel, Jim Wagner and Roger Wojtkowicz. Younger car enthusiasts can build, decorate and race their own pine cars at Greenfield Village's Guild Beer Hall or get behind the wheel of a vintage pedal car near the Roundhouse.
On Saturday, June 20, guests of all ages are welcome to jump back to June 1964 and twist the night away during Record Hop USA! Featuring live entertainment, costumed dancers and original recordings, Record Hop USA takes place at the Main Stage on Main Street at 7 pm and is guaranteed to have guests dancing in the street.
Motor Muster is free with membership or $25 for adults, $22.50 for seniors 62 and up and $18.75 for youth 5-12. Children four and under are free. Discounted tickets can be purchased at participating Meijer locations. For more information, call (313) 982-6001 or visit http://www.thehenryford.org/events/motorMuster.aspx
About The Henry Ford
The Henry Ford in Dearborn, Michigan is an internationally-recognized cultural destination that brings the past forward by immersing visitors in the stories of ingenuity, resourcefulness and innovation that helped shape America. A national historic landmark with an unparalleled collection of artifacts representing the Archive of American Innovation, The Henry Ford is a force for sparking curiosity and inspiring tomorrow's innovators. More than 1.6 million visitors annually experience its five attractions: Henry Ford Museum, Greenfield Village, The Ford Rouge Factory Tour, The Benson Ford Research Center and The Henry Ford IMAX Theatre. A continually expanding array of content available online provides anytime, anywhere access. The Henry Ford is also home to Henry Ford Academy, a public charter high school which educates 485 students a year on the institution's campus. In 2014, The Henry Ford premiered its first-ever national television series, The Henry Ford's Innovation Nation, showcasing present-day change-makers and The Henry Ford's artifacts and unique visitor experiences. Hosted by news correspondent and humorist, Mo Rocca, this weekly half-hour Emmy-winning show airs Saturday mornings on CBS. For more information please visit our website thehenryford.org.