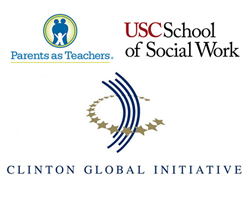 Creating virtual parenting support programs will help generate long-term economic growth by improving health, education, and workforce outcomes while preventing costly interventions later in life.
Denver, CO (PRWEB) June 09, 2015
Family educational support will soon go mobile thanks to a groundbreaking Commitment to Action announced today at the Clinton Global Initiative (CGI) America. Just as technology has transformed most aspects of American life, it will soon have the potential to transform the health and literacy of the youngest Americans by engaging and mentoring parents and caregivers in the first home visit program to be delivered in a live format entirely online.
Parents as Teachers, one of the nation's most respected family support organizations impacting nearly 250,000 families annually in all 50 states, and the University of Southern California School of Social Work, the country's largest and fastest growing graduate program in its field, unveiled a multi-year CGI Commitment to Action to make "virtual parent education" a reality. By using interactive, web-based telehealth technology, the program will expand services to high-need, hard-to-reach families in underserved communities and provide options to parents from all walks of life to receive the support needed to be their child's first and best teachers.
"The early years of a child's life are critical to their future success. Creating virtual parenting support programs will help generate long-term economic growth by improving health, education, and workforce outcomes while preventing costly interventions later in life," said Scott Hippert, President and CEO, Parents as Teachers.
Services will be provided through USC TelehealthTM a virtual counseling and therapy clinic, utilizing the evidence-based Parents as Teachers model via live, web-based video sessions. Following an initial development and demonstration phase, the program will roll out in California and Missouri in preparation for a nationwide scale-up.
"The partnership offers an unprecedented opportunity to chip away at barriers to universal access to parenting information and early childhood education," said Dorian Traube, associate professor, USC School of Social Work, and lead investigator. "We are utilizing the latest in secure, user-friendly technology to provide more families with critical early intervention services at a fraction of the typical cost for home visitation."
The Parents as Teachers model works with parents of children from prenatal through five years to improve parenting practices and parent knowledge of child development, provide early detection of developmental delays and health issues, prevent child abuse and neglect, and improve children's school readiness. To date, Parents as Teachers has been offered exclusively to families through in-person home visits by trained parent educators. USC Telehealth has a history and a mission to expand high quality, evidence-based telemental health services to underserved and diverse populations across California, both urban and rural, that include youth, adults, couples, families, seniors and veterans. Special programs include at-risk youth, foster youth/families, special needs families, older adults, and much more.
USC Telehealth will provide its virtual delivery platform, as well as a cadre of professional therapists and social workers to monitor and evaluate the virtual programs to ensure they are as effective as receiving on-the-ground Parent as Teachers parenting support through personal visits.
The three-year initiative begins this fall with the training of USC Telehealth practitioners in the Parents as Teachers foundational curriculum and model, followed by a pilot test of 20 families in Southern California scheduled for next year. Implementation of the larger scale, year-long trial involving families in seven California and Missouri cities will begin in 2017. That trial will include quarterly reports detailing parenting and child development outcomes.
"We are honored to announce this commitment at CGI America, a working meeting that promotes collaboration and actionable ideas to develop solutions for economic growth, long-term competitiveness, and social mobility in the United States," said Hippert. "We look forward to working with USC to open doors to provide support and service to more families by adapting our model for use with interactive technology."
About Parents as Teachers: Founded in Missouri in 1984, Parents as Teachers serves more than 250,000 families in all 50 U.S. states, more than 100 Tribal organizations, schools and communities, and five other countries. Its internationally recognized network of affiliates uses an evidence-based model to deliver parent education primarily through personal visits and group meetings, equipping parents with knowledge and resources to prepare their children, from birth through kindergarten, for a stronger start in life and greater success in school. Parents as Teachers programs operate in various settings, including schools, hospitals, faith-based organizations and housing communities. For more information, visit http://www.ParentsAsTeachers.org.
About USC School of Social Work: The University of Southern California's School of Social Work (http://www.usc.edu/socialwork) ranks among the nation's top social work graduate programs. A recognized leader in academic innovation, experiential learning, online education and translational research, the school prepares students for leadership roles in public and private organizations that serve individuals, families and communities in need. USC is dedicated to reinventing the profession, furthering knowledge and changing social institutions locally, nationally and globally. The school has made innovation a signature feature of its academic and research enterprise, leveraging technology in social work education, clinical practice, research and community development, as evidenced through the creation of an advanced online platform for distance learning, virtual humans for graduate-level teaching, and a university-based clinic offering mental health services over the Internet.
About Clinton Global Initiative America
The Clinton Global Initiative (CGI), an initiative of the Clinton Foundation, convenes global leaders to create and implement solutions to the world's most pressing challenges. Established in June 2011 by President Bill Clinton, the Clinton Global Initiative America (CGI America) addresses economic recovery in the United States. CGI America brings together leaders in business, government, and civil society to generate and implement commitments to create jobs, stimulate economic growth, foster innovation, and support workforce development in the United States. Since its first meeting, CGI America participants have made more than 400 commitments, which have improved the lives of nearly 1.4 million people.
CGI also convenes an Annual Meeting, which brings together global leaders to take action and create positive social change, CGI University (CGI U), which brings together undergraduate and graduate students to address pressing challenges in their community or around the world, and, this year, CGI will also convene CGI Middle East & Africa, which will bring together leaders across sectors to take action on pressing social, economic, and environmental challenges. For more information, visit clintonglobalinitiative.org and follow us on Twitter @ClintonGlobal and Facebook at facebook.com/clintonglobalinitiative.