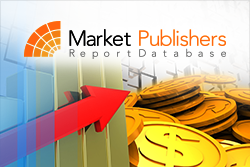 London, UK (PRWEB) June 10, 2015
Market Publishers Ltd and Grace Market Data (GMD) signed a partnership agreement for quality market research promotion on Internet. MarketPublishers.com is now authorised to distribute and sell research reports prepared by GMD.
Natalie Aster, Assistant Manager at Partners Department, commented on the recent partnership agreement as follows: "We are happy to inform that a new partner has recently joined our team – Grace Market Data, a US-based market research and intellectual platform of Grace International Group LLC. The company focuses on providing the most factual and cutting-edge digital intelligence products which encompass, besides a wealth of data and information, insightful market and industry intelligence. Their research reports provide a refined understanding of specific industry developments, market structure and competitors, besides enabling to make appropriate investment decisions and elaborate business strategies, amongst others. We look forward to entering into a long-lasting and mutually beneficial partnership with Grace Market Data, whose products could help our clients make timely and wise decisions with a view to enhancing their business performance."
In-demand reports by Grace Market Data:
Investing in Global Medical Device Sector: Risk Analysis and Management 2014-2020. The global medical devices (MD) market has been growing steadily in the recent past, with a host of investment opportunities available. However, the market potential could be restrained by a number of risks and barriers, including the industry's stage of growth, constantly changing and challenging regulatory procedures and laws, and decreasing profit margins. The report provides an evaluation and analysis of internal risks (industry growth stage, industry competition pressure, market entry barriers, industry volatility, and technology challenge) and external risks (regulation force, profit decline, effect of FDI, etc.) in the worldwide medical devices industry and market. Forecasts and projections for the trend of industry risks are provided through to 2020.
Global Medical Devices Market 2012-2020: Market Size, Share, Trends, Analysis and Forecast. The global market for medical devices is expected to witness a steady growth in the forthcoming years, with the foreign trade value and sales revenue reaching, respectively, USD 289.2 billion and USD 543.9 billion by 2020, driven by ageing population, growing healthcare spending and technology developments. The study examines the worldwide market of medical devices, providing an analysis of the historical performance, in-depth analysis and trend forecast of market share and size, sales revenue, foreign trade, R&D investment, geographical distributions and product categories by device sphere in the industry. Historical statistical data cover the past 3 years and forecast data are offered through to 2020. Key restraints, drivers and challenges, emerging market opportunities, competition and technological breakthroughs are also discussed in the report.
Asian Smartphones Market 2013-2020. The smartphone market in Asia accounts for 50% of the global smartphone market. China and India are expected to capture 52% of the overall smartphone market in the offing. Asia's market is forecast to have more than 1,000 million shipments by 2018, with the majority of those units set to be consumed primarily by India and China alone. Asian's companies like Xiaomi and Micromax challenge the dominance of Korea's behemoth Samsung. Domestic players are mulling over launching inexpensive 3G- and 4G-enabled smartphones, which has impacted the Asian smartphone market's growth. Surging demand, growing economy and tech-savvy rising generation are the key drivers of the regional smartphone market. The Asian market's potential is set to attract a host of players, and hence the sector is expected to face strong competition in the offing. Xiaomi, Samsung, Lenovo, Micromax, Apple, Nokia and Sony are currently the leading brands in the market. More information including detailed market segmentation and accurate figures is available in the report.
More details on the publisher and its research reports can be found at GMD page.