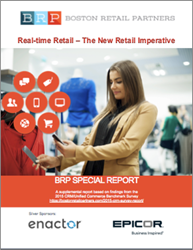 Successful retailers realize they can no longer divide that experience among separate channels and must work towards a holistic shopping experience that transcends channels and offers contextual guided selling and offers – in real-time
Boston, MA (PRWEB) June 11, 2015
According to a new special report by Boston Retail Partners (BRP), by 2020 nearly two-thirds of retailers will identify a customer when they walk in the store via their smartphone. The BRP SPECIAL REPORT: Real-time Retail – The New Retail Imperative, addresses how consumers' expectations of a seamless experience across channels – in the store, on the Web and via their mobile device – requires retailers to deliver a "real-time" shopping experience to meet these elevated demands.
Real-time retail is the ability to deliver a holistic experience to consumers whenever, wherever or however they choose to shop by gathering, analyzing and disseminating customer, product, pricing and inventory data across all channels – in real-time. This enables retailers to leverage "customer context," which we define as the interrelated factors of customer insights and environmental conditions, to make the shopping experience relevant.
"Customers are forcing a fundamental reshaping of retail by demanding a seamless convergence of the in-store and digital experiences," said Ken Morris, principal, Boston Retail Partners. "Successful retailers realize they can no longer divide that experience among separate channels and must work towards a holistic shopping experience that transcends channels and offers contextual guided selling and promotions – in real-time. It is promising to see that nearly 50% of the retailers indicated that real-time retail was one of their top three priorities (BRP POS Survey)."
This special report highlights key findings from recent BRP surveys validating retailers' commitment to implementing real-time retail by leveraging a unified commerce platform and other innovative technologies, including:

76% of retailers plan to provide suggested selling based on a customer's previous purchases within three years
83% of the respondents plan to offer promotions based on the customer's geographic proximity within five years
91% of the respondents plan to have real-time inventory available at the POS within three years
95% of retailers plan to implement real-time analytics within five years
To download the complete BRP SPECIAL REPORT: Real-time Retail – The New Retail Imperative, visit: https://bostonretailpartners.com/2015-brp-special-report-real-time-retail-the-new-retail-imperative/.
The BRP SPECIAL REPORT: Real-time Retail – The New Retail Imperative silver sponsors include Enactor and Epicor.
About Boston Retail Partners
Boston Retail Partners (BRP) is an innovative and independent retail management consulting firm dedicated to providing superior service and enduring value to our clients. BRP combines its consultants' deep retail business knowledge and cross-functional capabilities to deliver superior design and implementation of strategy, technology, and process solutions. The firm's unique combination of industry focus, knowledge-based approach, and rapid, end-to-end solution deployment helps clients to achieve their business potential. BRP's consulting services include:
Strategy | Business Intelligence | Business Process Optimization | Point of Sale (POS)
Mobile POS | Payment Security | E-Commerce | Store Systems and Operations | CRM
Unified Commerce | Customer Experience & Engagement | Order Management
Merchandise Management | Supply Chain | Information Technology | Private Equity
For more information on BRP, visit http://www.bostonretailpartners.com.