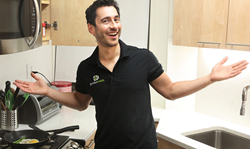 I am passionate about helping people simplify their journey to a healthier lifestyle.
New York, New York (PRWEB) June 09, 2015
From the grocery store to the kitchen, Aussie star Slim Geransar is helping everyday men and women take control of their health— and their lives— with 15 second viral videos on how to make delicious and nutritious meals from the convenience of their own home. With 700,000 engaged and enthusiastic Instagram followers, Geransar has shown that his Videomeals™ community strikes a chord with men and women of all ages and backgrounds who want an easy way to eat well and stay fit.
Today, Slim announces the launch of an all-new mobile and tablet friendly website, Videomealsonline.com. With the new website, fans now have access to hundreds of video recipes, health tips, special offers, and fitness eBook downloads.
What started as a personal video log has exploded into a do-it-yourself health and fitness movement, with millions of Videomeals™ fans sharing easy-to-follow video recipes across Facebook, YouTube, and Instagram (@VideoMeals). One of the things that makes Videomeals™ unique from other health or fitness fads is the level of personal attention and commitment Geransar shows to each subscriber.
"I am passionate about helping people simplify their journey to a healthier lifestyle," says Geransar. "Fans often ask questions from the grocery store, or even while cooking, and I do my best to answer them straight away."
Geransar's vision is also one of simplicity. "While some diet plans ask the dieter to source expensive foods, others are just too complicated for the average person to follow each day," explains Geransar. Recognizing that nutrition and fitness plans must be simple to be effective, each Videomeals™ recipe makes use of everyday, affordable ingredients that are easy to prepare. The quick, easy, and fun nature of each video is a driving force behind the brand's explosive international growth.
Videomeals™ – Simplifying Healthy Living
Log on to Videomealsonline.com for access to hundreds of delicious video recipes, health tips, fitness eBook downloads, and much more. For press and media inquiries, contact Slim Geransar online at slim(at)videomealsonline(dot)com or by phone at 646-706-3382.