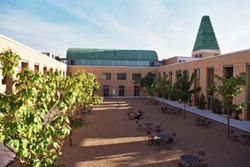 Oxford, United Kingdom (PRWEB UK) 9 June 2015
Is there wisdom in the crowds?
Saïd Business School announces new research to study the economics of equity crowdfunding
Saïd Business School, University of Oxford
The equity crowdfunding market is worth over £50 million a year in the UK, doubling in size last year as an increasing number of individuals look for an alternative place to invest their capital. Despite its size however, there is very little research into market dynamics, the success of campaigns to attract funding and the associated risks.
Nir Vulkan, Associate Professor of Business Economics at Saïd Business School, University of Oxford, has been granted funding from the Kauffman Foundation and Nesta to explore the business of equity crowdfunding. Working with Thomas Åstebro from HEC Paris, the 18 month project will explore the criteria for success for crowdfunders and how investors make decisions on what projects to back.
'We are looking to find out how investors react when presented with different information about an investment,' said Vulkan. 'Do they respond more strongly to information about the founding team, to company milestones, existing investors, or previous sales made? We will be able to understand what generates success and what leads to failure, and this will have important implications for companies looking for investment of money and community expertise. More broadly our findings will be of great importance for regulators and governments both in the UK and internationally looking at the benefits and risks associated with the crowdfunding sector.'
The study is being conducted on Seedrs, one of Europe's leading equity crowdfunding platforms. Seedrs matches investors with businesses seeking capital, conduct due diligence on the businesses, executes the investment transactions and acts as nominee on behalf of investors to protect their rights.
Seedrs was founded by Oxford MBA alumni Jeff Lynn and Carlos Silva, who worked on the idea for the company as part of their Entrepreneurship Project at Oxford Saïd, mentored by Vulkan, before it was launched in July 2012. On average, over £2 million is invested through Seedrs per month, and in 2013 it became the first crowdfunding platform for equity investments to allow cross-border fundraising rounds across the EU. Seedrs has made over 2.5 years of historical data, on an anonymised basis, available to Vulkan and Åstebro for the project.
Jeff Lynn, CEO and co-founder of Seedrs, said: 'It's a great honour to work with my former Oxford tutor, Nir Vulkan, along with Thomas Åstebro on this project. Equity crowdfunding is only in its infancy, and I expect their research to prove highly valuable for practitioners and observers alike as the space continues to grow rapidly in coming years.'
For more information or to speak with Nir Vulkan please contact the press office:
Josie Powell, Senior Press Officer,
Mobile +44 (0)7711 387215, Tel: +44 (0) 1865 288403
Email: josie.powell(at)sbs.ox.ac.uk or pressoffice(at)sbs.ox.ac.uk
Kate Richards, Press Officer,
Mobile: +44 (0) 7711 000521; Tel: +44 (0) 1865 288879
Email: kate.richards(at)sbs.ox.ac.uk
Notes to editors
About Saïd Business School
Saïd Business School at the University of Oxford blends the best of new and old. We are a vibrant and innovative business school, but yet deeply embedded in an 800 year old world-class university. We create programmes and ideas that have global impact. We educate people for successful business careers, and as a community seek to tackle world-scale problems. We deliver cutting-edge programmes and ground-breaking research that transform individuals, organisations, business practice, and society. We seek to be a world-class business school community, embedded in a world-class University, tackling world-scale problems.
In the Financial Times European Business School ranking (Dec 2014) Saïd is ranked 10th. It is ranked 10th worldwide in the FT's combined ranking of Executive Education programmes (May 2015) and 22nd in the world in the FT ranking of MBA programmes (Jan 2015). The MBA is ranked 7th in BusinessWeek's full time MBA ranking outside the USA (Nov 2014) and is ranked 5th among the top non-US Business Schools by Forbes magazine (Sep 2013). The Executive MBA is ranked 21st worldwide in the FT's ranking of EMBAs (Oct 2014). The Oxford MSc in Financial Economics is ranked 7th in the world in the FT ranking of Masters in Finance programmes (Jun 2014). In the UK university league tables it is ranked first of all UK universities for undergraduate business and management in The Guardian (May 2015) and has ranked first in nine of the last eleven years in The Times (Sept 2014). For more information, see http://www.sbs.ox.ac.uk/
About Seedrs
Seedrs is the largest crowdfunding platform in Europe to focus solely on equity investments.
It allows all types of investors to invest as little or as much as they like (from £/€ 10 up) in businesses they believe in and share in their success. And it allows ambitious businesses in all sectors to raise capital and build community through an efficient, online process.
Seedrs has funded over 200 deals to date, and it is growing 15% month-on-month. Details on its recent activity levels are available at http://learn.seedrs.com/2014-infographic/.
All investments made through Seedrs offer voting shares to investors and use professional-grade subscription agreements. This ensures that investors get the same level of protection that angel investors and venture capitalists enjoy.
Seedrs is open to investors and entrepreneurs across Europe, and it plans to launch in the United States later in 2015.
Seedrs is authorised and regulated by the UK Financial Conduct Authority. It was the first equity crowdfunding platform in the world to gain regulatory approval.
ENDS