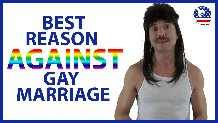 "I am not fighting for their rights because I'm straight and they are gay, I'm fighting for their rights because they are my fellow citizens and it's the right thing to do." - Ian Clark
Los Angeles, CA (PRWEB) June 11, 2015
The title is sure to spark immediate outrage from LGBT rights activists but once they watch, they will see that Ian did this intentionally. In the 3 ½ minute video, he draws attention to the fact that Americans differentiate marriage from gay marriage.
"There should never be gay marriage or civil unions; only good, old fashioned regular marriage for LGBT Americans," he says in the video.
Currently, 37 out of 50 states legalize and recognize gay marriage. The 13 states that continue to ban same sex unions are Arkansas, Georgia, Kentucky, Louisiana, Mississippi, Missouri, North Dakota, Ohio, South Dakota, Tennessee, and Texas.
"I am not fighting for their rights because I'm straight and they are gay," Clark said today. "I'm fighting for their rights because they are my fellow citizens and it's the right thing to do."
MORE ABOUT UPGRADING US
Launched earlier this month, Upgrading US is a smart non-partisan show available on YouTube meant to improve life here in the United States. Given that Congress pulls a 15% job approval rating, according to Gallup, Ian felt it was time to discuss some of the hot button issues plaguing our country while throwing in some laughs along the way.
To learn more about Ian Clark and Upgrading US, visit upgradingus.com.