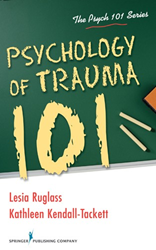 Psychology of Trauma 101 is exceptionally well-written, easy to read, and enriched with empirical findings and discussions related to trauma psychology...
Amarillo, Texas (PRWEB) June 19, 2015
In 1989 the Federal government created the U.S. Department of Veterans Affairs' National Center for PTSD, specifically to handle the needs of military members struggling with Post Traumatic Stress Disorder (PTSD). Doing so helped support service members but also worked to create awareness for everyone suffering from trauma-related disorders by helping society at large become familiar with this phenomenon. As a result, clinicians have gained a great deal of knowledge in recent decades about the psychological effects of trauma. In honor of PTSD Awareness Month, Praeclarus Press is proud to offer a new text in the field, Psychology of Trauma 101. This book is a concise, balanced, and accessible overview of psychological trauma. It is grounded in current research on trauma and its effects and considers how it is diagnosed and is treated with both conventional and CAM methods. Written by a leading researcher and clinician, Psychology of Trauma 101 serves as an entry-level text for students and practitioners alike. It includes first-person accounts from trauma survivors and describes how trauma affects family members and caregivers.
Terence M. Keane, Ph.D., Director: National Center for PTSD-Behavioral Science Division, VA Boston Healthcare System & Boston University School of Medicine, states, "At last, an introductory college text for the burgeoning field of psychological trauma. Accessible yet scientifically based, this text covers in an outstanding way the fundamentals of trauma exposure and the psychological disorders that can ensue. Written with care and respect, this book will be an important addition to the growing number of courses on this topic. I am deeply impressed by the depth and breadth of the coverage of this important clinical and scientific field." Additional praise comes from Charles R. Figley, PhD, Tulane University, who summarizes, "As trauma research and practice grow, practitioners, trainees, and others struggle to acquire and apply critical information to help the traumatized. In Psychology of Trauma 101, Lesia Ruglass and Kathleen Kendall-Tackett fill this void with a highly readable and reliable guide for practitioners and students in promoting posttraumatic growth and resilience."
Psychology of Trauma 101 is available for purchase in the Praeclarus Press online store.
Lesia Ruglass, PhD, is assistant professor of psychology at City College of New York and is a research scientist at the Trauma and Addictions Project. She is Member at Large in the APA Division of Trauma Psychology and chair of the Diversity and Multicultural Committee.
Dr. Kendall-Tackett is a health psychologist and International Board Certified Lactation Consultant, and the Owner and Editor-in-Chief of Praeclarus Press, a small press specializing in women's health. Dr. Kendall-Tackett is Fellow of the American Psychological Association in Health and Trauma Psychology, Past President of the APA Division of Trauma Psychology, and Editor-in-Chief of Psychological Trauma. She is a Clinical Associate Professor of Pediatrics at the Texas Tech University School of Medicine in Amarillo, Texas and Research Associate at the Crimes against Children Research Center at the University of New Hampshire. She has authored more than 380 articles or chapters and is the author or editor of 25 books on maternal depression, family violence, and breastfeeding.
Praeclarus Press is a small press that specializes in women's health. It features books, webinars, and products that support women's health throughout their lifespan. Based in Amarillo, Texas, the mission of Praeclarus Press is to produce materials that change women's lives.