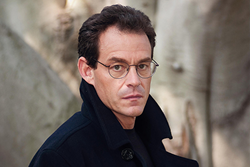 Owings Mills, MD (PRWEB) June 09, 2015
On Thursday, July 9, 2015, at 7:00 pm, international award-winning writer Daniel Silva will visit the Gordon Center for Performing Arts for an exclusive appearance following the debut of his latest novel, The English Spy. A book signing will take place following an interview and Q & A with the author.
Following fourteen New York Times and international bestsellers, Silva's The English Spy does not disappoint. Silva's character Gabriel Allon, debuted in Silva's fourth novel The Kill Artist, is one of the most memorable and compelling characters in contemporary espionage fiction. The art restorer and sometimes Israeli secret agent, tackles new adventures in The English Spy. Compelling, passionate, haunting, and brilliant, Silva's genius for spies and intrigue proves itself time and again.
Originally from Michigan, and raised in California, Silva, a convert to Judaism, abandoned his studies of international relations and joined the United Press International. His career there flourished, and he rose to become Executive Producer of CNN's talk show unit, until 1997, after The Unlikely Spy's successful publication when Silva began to work as a novelist full time.
Translated into more than 30 different languages, Silva's other novels include The Unlikely Spy, The Mark of the Assassin, The Marching Season, The English Assassin, The Confessor, A Death in Vienna, and Prince of Fire, The Messenger, The Secret Servant, Moscow Rules, The Defector, The Rembrandt Affair, Portrait of a Spy, The Fallen Angel, and The English Girl.
Join us, for a wonderful evening with a master of his craft!
A ticket to the event is $35 and includes one copy of The English Spy; two tickets to the event are $50 and include two copies of the novel.
For more information regarding the event, contact Marilyn Zvili at mzvili(at)jcc(dot)org or call 410-559-3510.
The Peggy and Yale Gordon Center for Performing Arts is Baltimore County's premiere arts destination. The Gordon Center offers an eclectic variety of professional entertainment in music, theater, dance, family programming and film. You will experience world-class acoustics in an intimate, state-of-the-art venue. Free parking in well-lit spaces, handicap accessible, and equipped with a special RF system for the hearing impaired, the Gordon Center can be enjoyed by all.