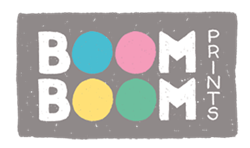 This feature will complement BoomBoom Print's appreciation for families, dads, and artists.
MINNEAPOLIS, MN (PRWEB) June 15, 2015
In honor of Father's Day, the online marketplace for independent artists, BoomBoom Prints will feature kid-friendly independent artists who are also dads. Chosen dad-artists will have a short interview and some of their artwork appear on the company blog and social media throughout the week of Father's Day.
This feature will complement BoomBoom Print's appreciation for families, dads, and artists. BoomBoom Prints was founded by three dads who, at the time, were just entering the world of fatherhood and wanted to make it easier to find nursery artwork. With over 2,000 artists from around the world, the company has since expanded its inventory from just wall art to include clothing, note cards, and phone cases.
"When I walk in the door from work my son, Jax, is always there to say 'Hi Daddy' with a smile and then promptly remembers that he is two and is hungry, wants to play outside, or any other number of things that runs through a toddler's head," said Brett Bohl, founder and CEO of BoomBoom Prints. "It makes you flip the switch from entrepreneur to dad, and regardless of what happened that day, Jax and Sara, my wife, keep me grounded. It is an amazing gift they give everyday, and I am lucky to have it."
After driving participants to the Father's Day feature through email and social media, BoomBoom Prints will highlight the following: 1) interviews with dad artists about how family life and art life are balanced and 2) insight into the inspiring aspects of fatherhood and how that transfers into the artists' work.
About BoomBoom Prints
BoomBoom Prints is an online marketplace connecting independent artists with young families. Artists upload family-friendly designs that are then automatically placed on dozens of different product options. Since BBP handles all the customer service, printing, and shipping, artists get to focus on what they love most – creating art. This art goes online, where shoppers then get to explore a curated collection of kid-friendly designs and products unique for the little ones in their lives.
Products from BoomBoom Prints range in price from $20 for a normal poster print to $250 for a 36x36 canvas print. BoomBoom Prints produces and ships all products on-demand to avoid waste, but if the color or size is just a bit off, free exchanges are offered too. To learn more about BoomBoom Prints, sign up as an artist, or order unique artwork, visit http://www.boomboomprints.com, email them at hello(at)boomboomprints(dot)com and follow them via the BoomBoom Blog, Facebook, Twitter (@boomboomprints), Pinterest or Instagram.